Not everyone feels comfortable bearing a lot of skin in the summertime. For them, they'd rather wear a t-shirt. It's one thing to go into the ocean in a t-shirt, but what about your swimming pool? Is it safe to do, and what will happen?
Wearing t-shirts in a swimming pool is ill-advised for the following reasons:
Dyes and colors can leak into the water
Cotton fibers can degrade and possibly block up the filter
Cotton clothing also deposits contaminants in the water
It's not only a poor idea to wear clothes in the swimming pool for those reasons, but for what pool chemicals like chlorine can do to your favorite shirt as well. In this article, we'll talk further about what you should and shouldn't wear when swimming, including the best and worst clothing materials.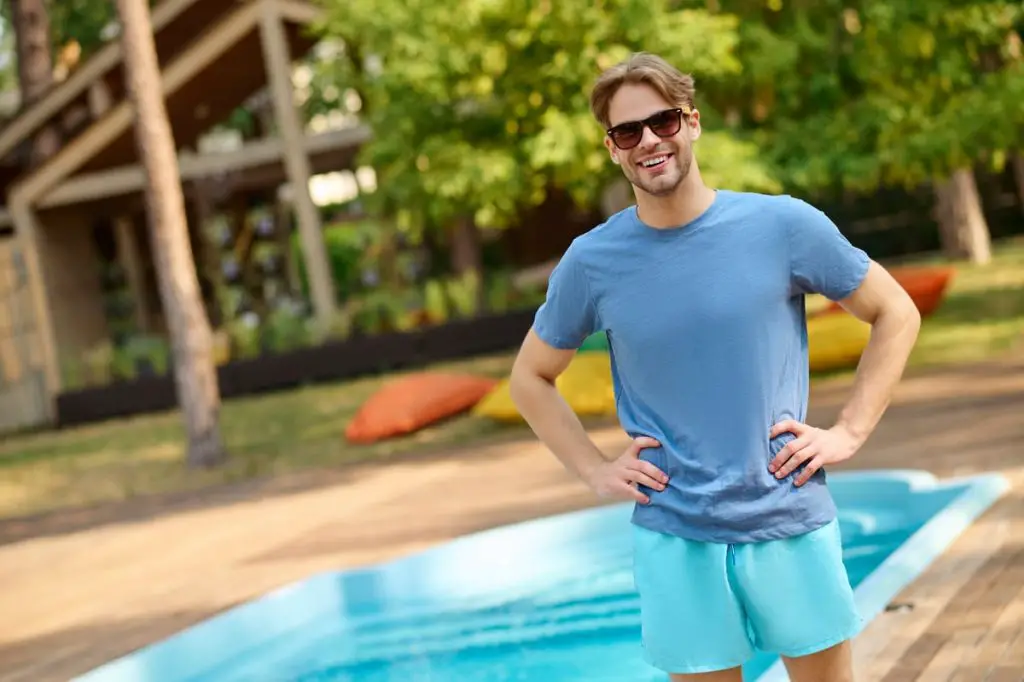 What Happens If You Wear a T-Shirt in a Swimming Pool?
Are you thinking about wearing that pool coverup into the water? If you're doing it out of self-consciousness, a wet, clingy t-shirt is not going to be modest, nor will it feel comfortable. Much more concerningly, wearing a t-shirt in the pool can lead to the following adverse effects.
Dyes and Colors Can Get in the Water
Have you ever wondered how your clothes are as brightly colored as they are? They're dyed. Depending on the material, how clothing is dyed varies. 
For instance, to change the color of cotton, manufacturers use direct, reactive, synthetic, or vat dyeing. To dye polyester clothing, dispersal dyes with azo or anthraquinone create appealing hues. 
Yet, it doesn't matter the dyeing method. If your clothing gets wet in the pool, it could impart that dye into the water. That's why you don't wash your colored clothing with your whites, as you don't want the whites to stain.  
Clothing dyes are chemicals. The water in your pool contains chemicals, also. When two chemicals interact, the balance of your swimming pool water changes. As a result, you may have to test and buy additional chemicals for your water to get its composition back to normal. 
Cotton Fibers Can Break Down and Get into the Filter
That cotton t-shirt you're wearing right now is comprised of fibers that are woven into fabric. When the fibers spend enough time in the water, they can begin breaking down and separating from your garment. 
If enough fibers travel in a cluster, they can get into your pool's filter and back it up. The filter will either stop working entirely or only barely work. Either way, you'll have to call your pool people to come out and determine what's going on. Depending on the extent of the damage, you could be looking at costly repairs. 
Now, wearing a cotton t-shirt in the pool once or twice is likely not going to deposit enough cotton fibers to clog your filter. It would take repeated instances of wearing clothes in the pool. Also, other clothing materials such as nylon and Lycra do not cause the same issue.
The reason is that these materials are non-absorbent, whereas cotton is very absorbent. The pool water soaking through cotton can strain the fibers. 
Clothing Can Transfer Contaminants into the Water
Even if your cotton t-shirt isn't falling apart in the pool, it's covered in contaminants. These can be waterborne or airborne, even both. You don't see these contaminants, but that doesn't mean they aren't there. 
When you do a big cannonball into the pool wearing a t-shirt, now all the contaminants clinging to the cotton are in the water. Swimming in the pool could then cause illness in some people.
How Chlorine Affects Your Clothing
If you've ever gone swimming in a pool shortly after chlorine was added, then you know this chemical is not gentle. The impacts of chlorine on clothing vary based on what your shirts or other garments are made of. Here's a list of how chlorine and fabrics interact for your perusal.
Cotton
Lifestyle resource Our Everyday Life wrote that in 2018, that 40% of women's clothing is entirely cotton, while 60% contains at least some cotton. For men, about 85% is all cotton.
The natural fibers in cotton are very susceptible to chlorine damage. While the chemical will begin to wear away at all clothing fibers, this happens at an accelerated pace with cotton clothing.
If you wore the same cotton shirt in a freshly chlorinated pool a few times over, we bet you'd start noticing some signs of damage. The fibers are weaker, so they fray more easily and will eventually tear if prolonged exposure to the chlorine continues.
Another effect that cotton garments are susceptible to when exposed to chlorine is bleaching. According to manufacturer Beanbags R Us, when the chlorine level in the pool exceeds 80 particles per million or PPM, your green or blue shirt will start fading noticeably. 
If there's less chlorine in the water, your clothes are still bleaching, but not as quickly. Again, you'd have to wear the same cotton shirt in the pool several times over to notice any color differences. 
Polyester
One of the best clothing material choices, if not the best for swimming pool use, is polyester. As a hydrophobic material, polyester will absorb chlorinated waterless. The chemical cannot as easily degrade the quality of the fibers in the polyester garment, nor can it lighten the color. 
This doesn't mean you should wear a polyester t-shirt to the pool all week. Polyester is not invincible to the effects of chlorine; it just takes longer for those effects to appear. Besides the chemicals in the pool working against the longevity of your polyester shirt, the fading effects of the sun do your clothes no favors either. 
Nylon
If your shirt isn't made of polyester but nylon instead, then it's again somewhat chlorine-resistant. Its quick-drying properties also make nylon garments more appropriate for the pool. However, the tough combo of sunlight and chlorine will discolor your nylon clothing eventually. 
Tri-Blend
We mentioned before that not all clothing is made of cotton as some use other fibers. These garments are likely tri-blend, which are manufactured with rayon and polyester in addition to cotton. Tri-blend clothes are usually quite durable and can breathe well.
We already talked about how well polyester can handle chlorine. You also know that cotton will break down quickly if exposed to the chemical. What about rayon? The University of Georgia states that rayon weakens when wet.
Weak clothing fibers, as you now understand, are prone to ripping and tearing. That's true of cotton as well. Even with the inclusion of polyester, tri-blend clothes will not last long in sunlight and chlorine. 
Spandex
The tightness of spandex makes it a popular material in athleticwear. You might own a few spandex shirts yourself, or maybe yours are made of Lycra. Do these materials do any better when exposed to chlorine than the fabrics we've discussed?
Not so much. Chlorine can weaken the elasticity of spandex until your shirt is shapeless and even brittle. No amount of washing will be able to restore your spandex shirt, so you'll have no choice but to throw it away.  
What Shirts Are Good for Swimming?
If you care about your shirts, then you shouldn't wear them in the pool, especially if they're cotton. It only takes one dip in a cotton t-shirt for the garment to be irreversibly weakened and possibly whitened too.
This doesn't mean you have to go out to the pool in attire that makes you feel uncomfortable. Instead of wearing a cotton shirt, try a swim shirt. These are available for both men and women. 
For the fellas, this Speedo swim shirt looks and feels like your favorite tee but is much better for the pool. Its polyester base also offers protection from UPF 50+ and UV rays. With low moisture absorption and quick-drying properties, you won't have that uncomfortable feeling of your shirt sticking to your body like a second skin.
Rash guards like this one from Kanu Surf for women also boast UPF 50+ sun protection. This short-sleeved polyester shirt features a stylish side stripe in a contrasting color as well as a modest V-neck. You can select from a wide assortment of colors to match any swim bottoms.  
Can You Wear Leggings in a Swimming Pool?
Speaking of swim bottoms, are they your only option when you want to take a swim? Couldn't you jump off the diving board in a pair of leggings? 
More than likely, you shouldn't. Everyday fashion leggings are often made of cotton. The same effects that we described above would occur, including fabric weakening and bleaching. Your leggings would be ruined.
Athletic leggings might not use cotton, but they're elastane, which is another word for Lycra or spandex. Your leggings are form-fitting now, but after a few days of fun in the pool, they would never fit you right again. 
Swim leggings are your best option. For women, these ATTRACO swimming pants on Amazon are made of polyester with spandex. Their high-waisted fit is flattering, and the four-way stretch keeps these leggings comfortable whether you wear them wet or dry.
For the men, a pair of Lemorecn surfing leggings made of nylon with polyester can also handle regular swimming pool use. These pants have UPF 50+ sun protection and include an elastic waistband with tummy control.  
Conclusion  
Wearing street clothes in the swimming pool can leech dye and contaminants into the water. The fibers in fabrics like cotton can break down and block your pool filter too. 
If you'd rather wear clothing in the pool, you should buy swim shirts and leggings intended for getting wet. These materials won't become bleached easily, nor will the fibers break down after a use or two.