Selecting the right pool chairs can be challenging given the wide range of styles, materials, and price points. One such brand, the Ledge Lounger, is intriguing, but many people object to their high price point. So why are Ledge Loungers so expensive?
Ledge Loungers are designed to sit in the pool for an extended period. They comprise a UV protectant material that can resist the chemicals in the water. Also, they can absorb water, stopping them from floating away. As a result, they are manufactured to withstand these conditions. 
Though the Ledge Lounger has earned a reputation as one of the best places to lie, there are many other alternatives for you to explore. Keep reading to find out more about them and whether they will be the right choice for your pool.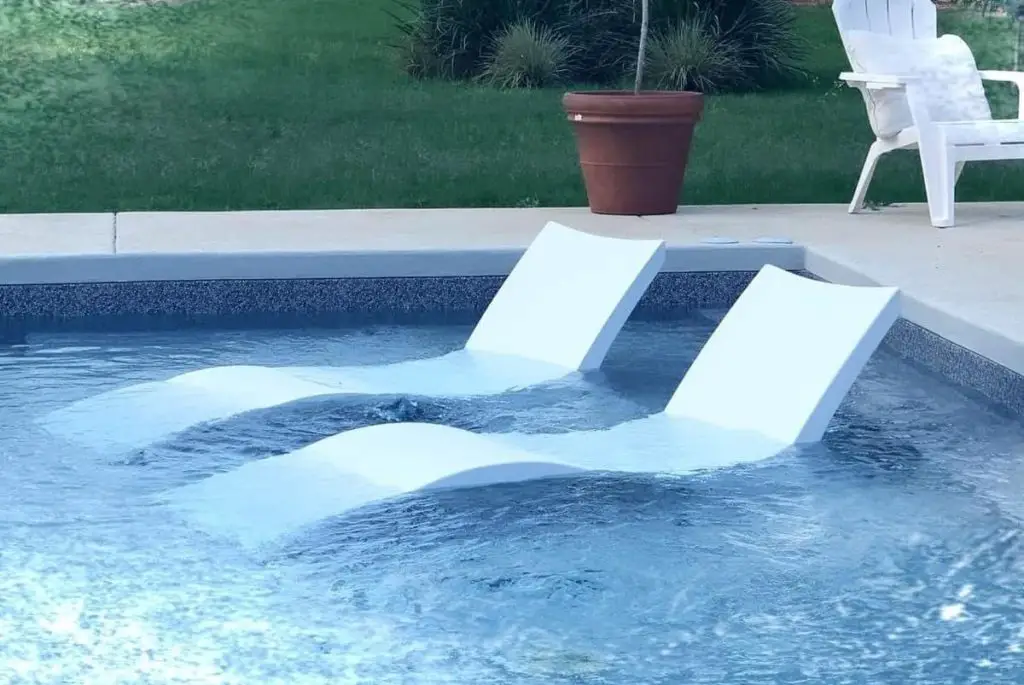 Why Are Pool Chairs So Expensive?
As you may have noticed, pool chairs can be rather pricey, often because of the manufacturing process. Most have been built to high standards to withstand the elements. The difference among chairs specifically designed for poolside will likely be just how resistant they are.
As a result, a basic pool chair will often start at around $150, with premium quality brands being upwards of $500. 
Do Pool Chairs Fade in the Sun?
A big concern when selecting your chairs for poolside is whether they will hold up over time. Whether this will occur depends on the material the chairs are made of. 
It's essential to get something built to withstand UV radiation. Buying UV-resistant chairs is the best way to stop the colors from fading. While this will ensure that it lasts long, the materials will be more expensive. 
While picking good material is the best solution, there are a few other tips you can use to make sure that your pool chairs will last for a long time. These include:
Keep in the shade. The easiest way of doing this is by putting an umbrella over the chair. The less direct sunlight it gets, the better preserved the chair. 
Use a furniture cover when not in use. If you can be disciplined, make it a habit to cover your chairs when not in use. Also, unlike other types of outdoor furniture, you won't be using a pool chair all year long. During the winter, pop a cover over them. Both of these actions will only take a few minutes, and it will extend their life.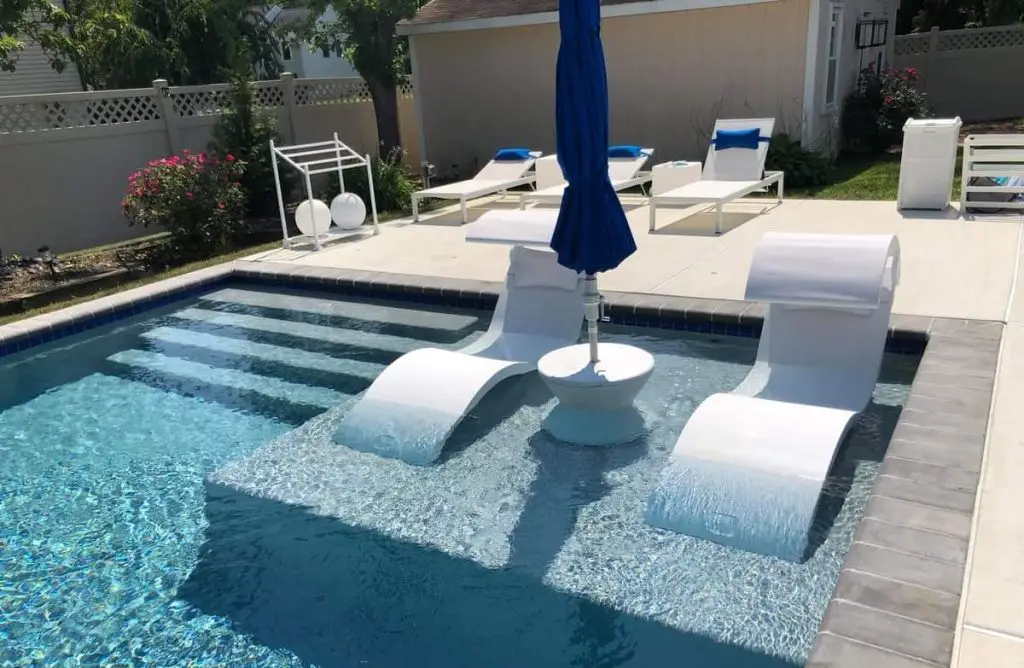 What Kind of Chairs can You Put in a Pool?
There are a couple of options for use inside the pool. Of course, there are tanning ledge chairs that are intended to be positioned on a tanning ledge. They are typically made of plastic, which stops them from rusting or breaking down in the water. A Ledge Lounger has been designed to sit in the pool for extended periods, though they are the most expensive. 
Another option is to get an inflatable floating chair. These are the most relaxing to sit in while you drift through the pool. However, inflatables lack durability relative to other chairs. To compensate, they are reasonably inexpensive. 
Why are Ledge Loungers so Expensive?
Ledge Loungers have earned a reputation as some of the most expensive chairs on the market. The cheapest option will set you back around $750. There are a few reasons for this high price. 
Ledge Loungers use high-quality marine-grade plastic to ensure that it resists fading and material breakdown. Unlike other pool chairs, they are filled with water at the base as they are meant to stay in the water at all times. Water-logging makes the chair heavier, so it doesn't float away. It also ensures that you don't need to worry about it blowing off in a storm. Additionally, they can withstand the chemicals present in swimming pools.
Additionally, their Signature lounger comes with a two-year warranty! This ensures no rotting, cracking, or peeling through two full swim seasons. You are unlikely to find that elsewhere.
Picking the Right Chair
There are dozens of pool chair options on the market. However, there are some that you won't be able to put into the pool. These include:
Chairs with aluminum frames. These chairs are metal and quickly rust and corrode in the water. 
Chairs that use vinyl straps. The water will remove UV protection from the straps. As a result, the colors will fade quickly. Also, these tend to have a metal strap. 
Chairs using sling fabrics. These are a popular choice for being poolside. However, they aren't suitable to put into the water. Often, the water will weaken the sling, so it will no longer be able to take your weight. Additionally, the chemicals will strip the UV protection, so the colors fade. 
Aside from the fabric, there are a few other factors to consider when choosing your pool chairs. First, it's vital to think about how comfortable they will be. Most Ledge Loungers will be padded and contoured to the body, making them perfect for lying in. In other cases, you will need to add a pillow. 
The next thing to consider is the style and color. After all, you want it to look good. Thankfully, there are hundreds of designs that you can choose from. 
Lastly, consider if the manufacturer offers an extended warranty, as it shows confidence in the product. Also, double-check the returns policy should you not like it.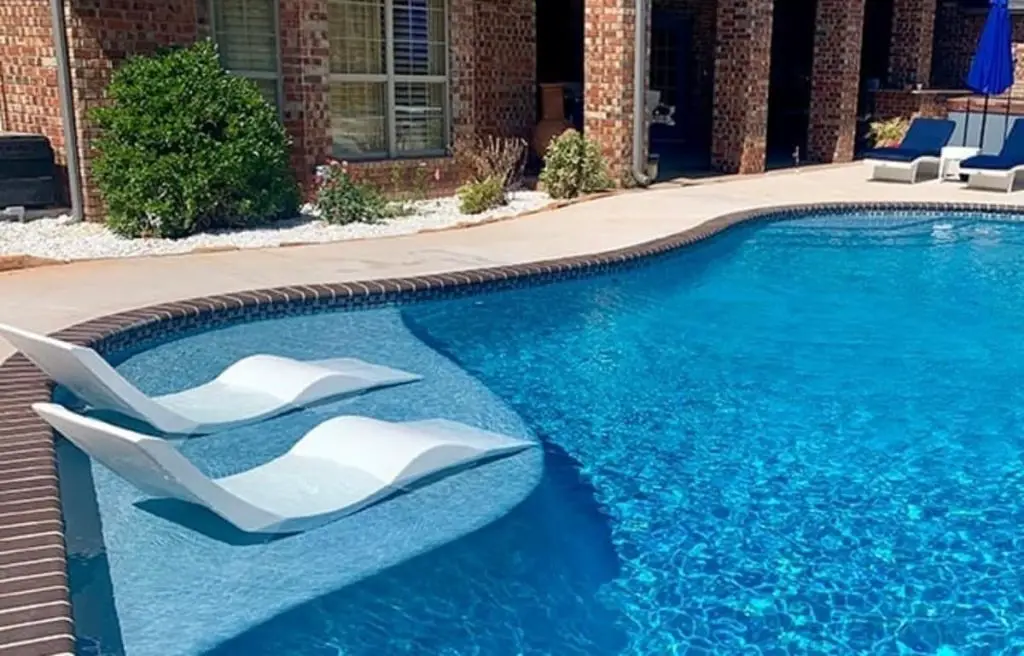 Final Thoughts
Ledge Loungers have built a reputation for being expensive. But, when you look at the conditions they need to face, the price is easier to understand. After all, it will need to deal with both UV radiation and the chemicals in the pool. The good news is that they aren't the only pool chair option. You should find something inexpensive if you want to sit around the outside of the pool.