Artificial grass is a popular substitute for natural grass since it can withstand various weather conditions and require minimal maintenance. And if you plan on improving your swimming pool area's appearance, installing artificial grass could be a fantastic idea.
A swimming pool will not ruin artificial grass since it's made with chlorine-resistant materials, such as polyethylene, nylon, and polypropylene. These are the same materials used to produce recyclable items, including water bottles.
So if you're thinking about using artificial grass to enhance your pool area, keep reading this article as I explain why a swimming pool will not ruin artificial grass. I'll also discuss how it'll fare with temporary pools, why you'd choose it for your swimming pool, choose the right one, and maintain it.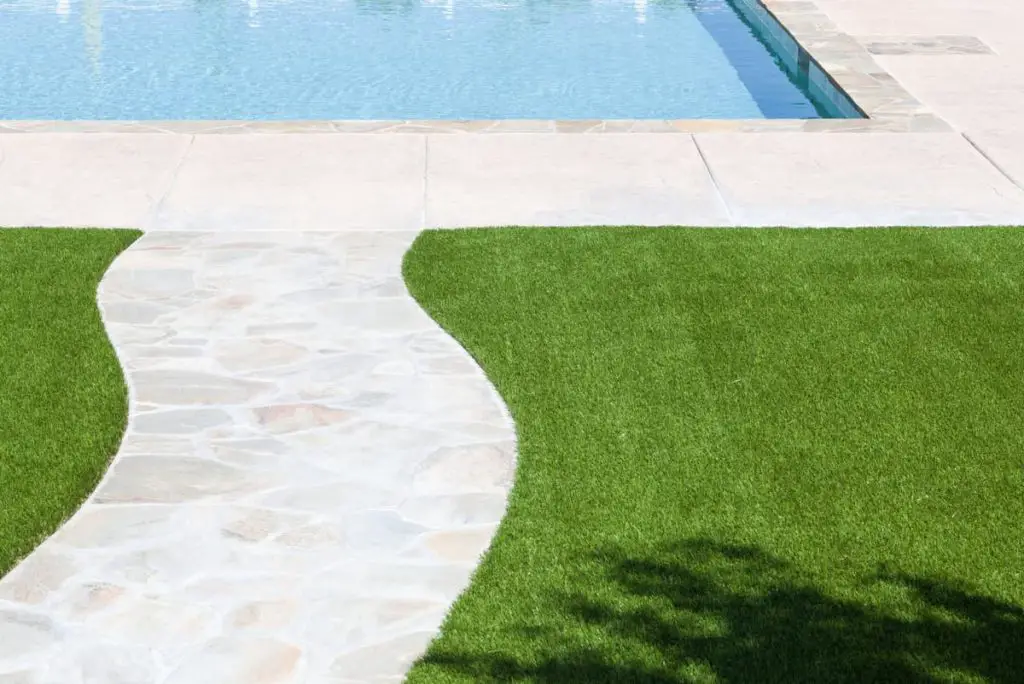 Why a Swimming Pool Will Not Ruin Artificial Grass
Although chlorine is loaded with chemicals that act as a cleaning agent to bleach and eliminate bacteria in the swimming pool, it has no adverse effects on the artificial grass, so it will not ruin it. The primary plastic materials used to make artificial grass, polyethylene, nylon, and polypropylene, are all proven to be chlorine-resistant.
Temporary Swimming Pools Might Deform Artificial Grass
While pool water will not damage artificial grass, other factors could slightly affect its quality and appearance, including the type of pool you have. If you have an in-ground pool, you don't need to worry about your artificial grass since it'll only serve as a surround.
But if you have an inflatable or an above-ground pool, the duration you leave it on the grass can cause minor but repairable issues, such as the deformation of its blades, causing it to flatten since the water weighs it down.
Why Use Artificial Grass for Your Swimming Pool
It's no secret that maintaining natural grass can be tedious and expensive. Consequently, more people have started using artificial grass for their lawns instead. And if you're still undecided if you'd follow suit, here are some benefits of shifting to artificial grass:
People won't notice that it's artificial since it looks like natural grass.
The grass will not die even if you don't water it.
Its color will stay vibrant when adequately cared for.
You don't have to buy fertilizers.
You don't need to mow or cut the grass.
It requires minimal to zero maintenance.
Choosing the Right Artificial Grass for Your Swimming Pool
If you've decided to change to artificial grass, take note of the following to ensure its longevity:
Make sure the artificial grass is UV-stabilized. If your pool area is often exposed to sunlight, you'll want to purchase one that can withstand the UV from the sun so it doesn't deteriorate.
Consider the quality of the turf backing. Choosing artificial grass with a durable turf backing allows it to keep its shape, especially if it's often used.
Check if the artificial grass is pet-friendly. If you've pets at home who constantly run around or play on the grassed area, you'd want your chosen artificial grass to be as safe as possible since they tend to chew on things and even urinate.
To help you determine which one to get, here is a list of some of the best artificial grasses for your swimming pool (all products available on Amazon.com):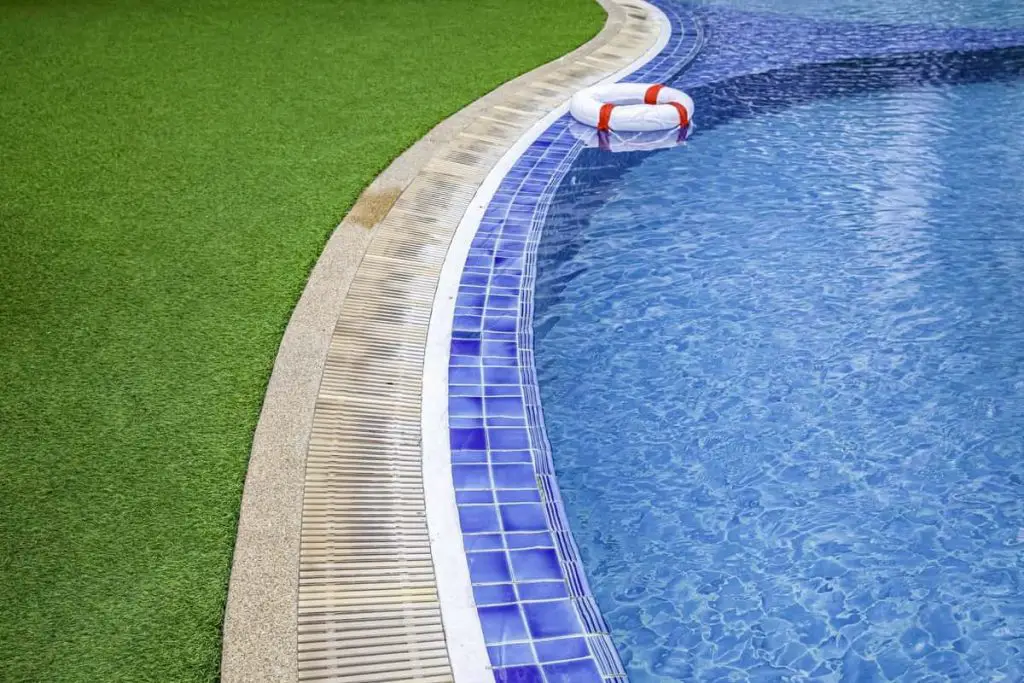 How To Maintain Artificial Grass
People now prefer artificial grass over natural grass since it requires minimal to zero maintenance. While its upkeep isn't a daily chore, make sure you spend time doing so when necessary.
Rinse Away Swimming Pool Water
If you often use your swimming pool, especially on hot days, the chances are that plenty of chlorinated water will splash onto the grass. Since chlorine contains chemicals, there will likely be residue and build-up. 
To avoid this, you can hose down your artificial grass at least once a week to keep its vibrance and shape.
Clear Out Debris (Leaves, Dust, and Branches)
If your artificial grass accumulates fallen leaves, dust, and branches, especially on windy days, you can use equipment like lawn vacuums or leaf blowers to remove them easily and efficiently. Doing this allows your grass to stay clean and appealing.
Clean Up Pet Waste
If your pet is often on your artificial grass, doing their business on it's inevitable. So if this happens, all you need to do is remove the feces and dispose of it properly. 
But if it's a bit wet, leave it until it dries to avoid it from spreading. For urine, wash down the spot with a water hose to avoid unwanted odor. The grass will dry itself since the liquid will pass through its drain.
So if you want to prolong your artificial grass as this will help maintain its appearance and quality, don't skip doing the things listed above.
Brush the Grass Once a Week
To keep the artificial grass in tip-top condition, spend a few minutes brushing through the leaves once a week to keep its shape and remove the dirt you may have missed. Keep in mind that you need to use a soft bristle brush so you don't tear or damage it.
Final Thoughts
A swimming pool will not ruin your artificial grass since it can withstand the chemicals from chlorinated water. So if you've wanted to install it around your swimming pool area, I say you should go for it!
It'll stay vibrant, appealing, and durable, and it'll also help you save money since you most likely already have the things you need to keep it in good shape.
Sources