Owning a pool is fantastic, but sometimes those pools become outdated, or you purchase a property where the pool hasn't been cared for. Pool decks are one of the primary things that degrade, and it's only natural to want to replace yours if it looks damaged. So if you don't want to go through the hassle of tearing out the old one, can you tile over the existing deck? 
You can tile over an existing pool deck as long as the deck is in good repair. Damaged tiles and other materials will result in your new deck adhering improperly and eventually breaking off. If the old deck is too broken, it's best to tear it up and start from scratch. 
In the rest of this article, I will discuss some common concerns about laying tile over an old pool deck and the best method for laying tile for a pool deck. So if you want to learn more about how to lay tile and if tiling over an existing pool deck is a good option, read on.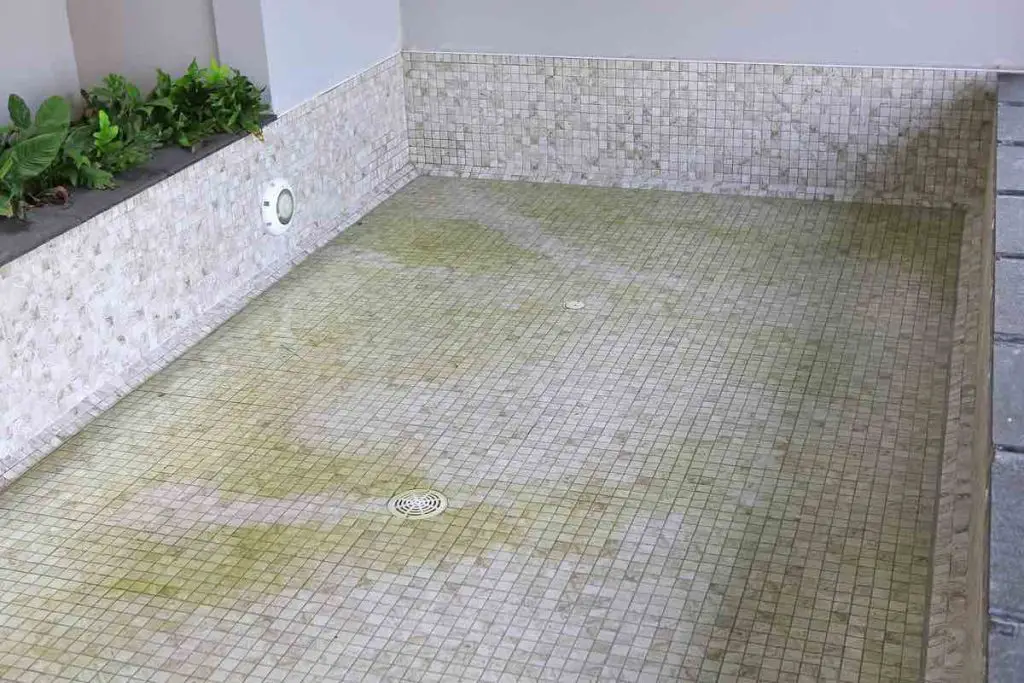 How to Decide if You Should Tile Over an Existing Pool Deck 
Tiling over an old pool deck can undoubtedly save you time when it comes to beautifying your pool. However, if the old deck isn't in good repair, it can cost you more time and money in the long run. If you are concerned you need to fully replace your deck, here are some signs to look for:
The current tiles/surface are corroded from pool chemicals. 
The pool deck is severely discolored.
The deck is uneven and broken. 
If you notice any of these signs in the existing deck, it's best to pull it up and start from scratch. For example, if you tile over an uneven surface, you will likely face problems in the future. Additionally, warped and broken tiles will have a more challenging time adhering to the new tiles, resulting in new tiles that won't stick and break as well. 
Additionally, if you don't have tiling experience when it comes to tiling over an old pool deck, I recommend consulting a professional. A good pool contractor will be capable of tiling over the old deck without problem, so long as the deck's in decent repair. However, many contractors recommend starting from scratch to ensure a longer deck life. 
Things to Keep in Mind Before Laying Tile for Pool Decking Over Existing Decking
If you feel confident in your ability to lay pool decking over the existing decking, then there are a few steps you must follow. First, do not lay tile over your old deck if it's in poor repair. Laying new tiles over the old despite problems will cost you more money and time in the long run. 
The deck and tiles surrounding your pool will often be damp due to the water they come in contact with. Therefore, you must remove any moisture before proceeding. Additionally, you will need to prep/rough up the existing pool deck so the new tiles can adhere adequately and use a quality sealant. 
You mustn't proceed to tile over your old deck if pieces are loose, broken, or crumbling; this is because a poor surface under your new tile will pop up and even crack. However, if your existing deck is concrete and not too damaged, it can easily be tiled over. 
In addition to tile, you can also consider putting travertine on your deck. I've explained how in a comprehensive guide. Click on the link to read it. [Can You Put Travertine Over a Concrete Pool Deck?]
How To Lay Pool Decking Over Existing Decking 
Laying pool decking over the old deck isn't always ideal, so carefully inspect the existing surface before laying the tile. However, if you feel confident in laying the new deck over the old without the help of a professional, the process is relatively the same as laying a completely new deck. 
Here's how to lay pool decking over existing decking that is in good shape:
Prep and clean the surface of the old decking. Ensure that all debris has been removed and that the surface is rough enough that your tiles will easily adhere with the use of grout. Slick tiles will be difficult to stick to your new tiles, too, so a concrete surface is best. 
Select a tiling starting point, so your tiling pattern matches up. Preplanning where you will start and end your tile is essential whenever you lay a tile. Planning ensures all your tiles line up, and you won't have to make as many intricate tile cuts. 
Use thin-set mortar to adhere the tile to the old surface. A thin-set mortar is best for sticking new pool tiles down and ensuring they stay put for a long time. 
Place the thin-set mortar down and place your tiles. Using a sweeping motion, use your trowel to spread the mortar before placing your tiles. Of course, you will also want to use tile spacers and levelers to ensure everything is centered and level. 
After the tiles dry, grout in between them. Once the mortar has had plenty of time to set, you can mix up the grout of your choice and apply it to the lines between the tiles. Ensure you get the grout in well, so no water can get trapped and mold under the tiles. 
Once you've tiled
As you can see, the process is pretty straightforward as long as you understand how to lay the tile. If you don't, hiring a professional pool contractor is always a good idea and is sometimes cheaper than purchasing all the necessary equipment yourself. That said, keep in mind that it's best to call and get multiple quotes to ensure you get a good deal. 
Additionally, if you're replacing your current pool deck with tile for aesthetic reasons, there are several easier options, such as patio deck tiles. These are great because they sit on top of the current deck and come in several colors and designs. 
If you're thinking about deck tiles, I recommend Interbuild Real Wood's Acacia Hardwood Interlocking Deck Tiles (available on Amazon). These tiles are easy to install since they snap together and are extremely beautiful. Additionally, if one becomes damaged, it can easily be replaced.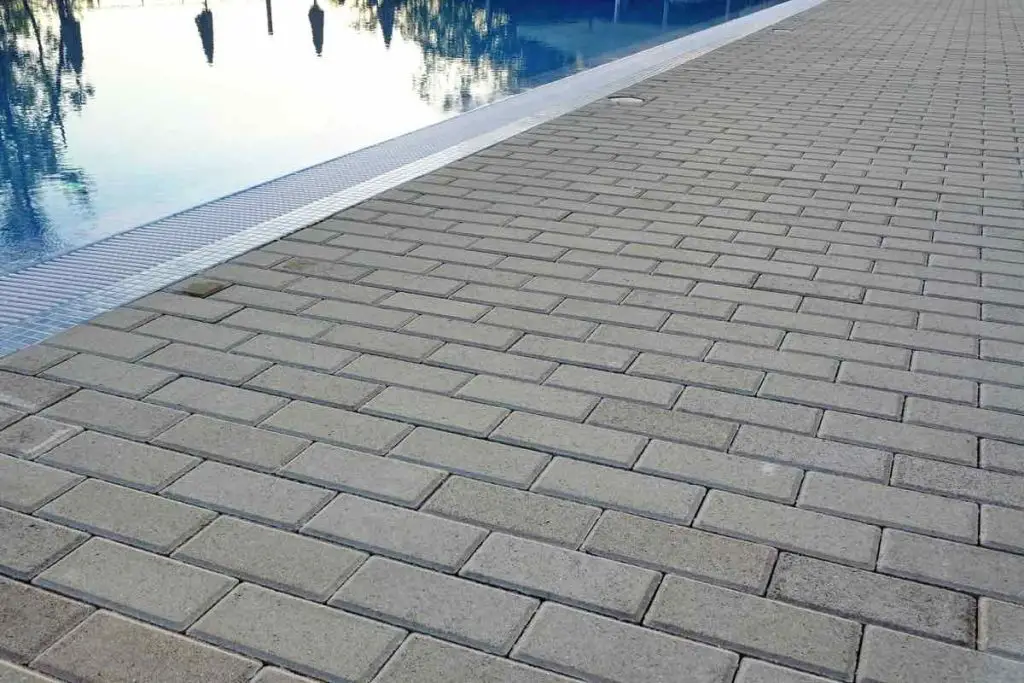 Conclusion 
You can tile over an existing pool deck, especially if the existing deck is made of concrete. If it's not made of concrete, you will need to check the surface for erosion, damage, and discoloration. 
An existing deck in poor repair will not do well with new tile over the top. A bad starting surface will result in cracking and loose tiles. 
That said, a new surface for tiling is always safest, and utilizing a professional pool contractor's skills is a good idea. 
Sources