This is the year you'll finally grant the kids' wish and buy them a swimming pool. You figured you might as well kill two birds with one stone and get an above-ground pool with a deck, but how much will this cost you?
Above-ground pools with a deck cost anywhere from $2,500 to $11,200, including installation fees. The deck's cost is between $15 and $30 a square foot. A DIY deck kit can cost up to $4,000, making it far more economical.
You probably have more questions about above-ground pools with decks, and we'll answer them all in this article. Keep reading to learn more about how big your pool deck should be and the benefits of having a pool deck.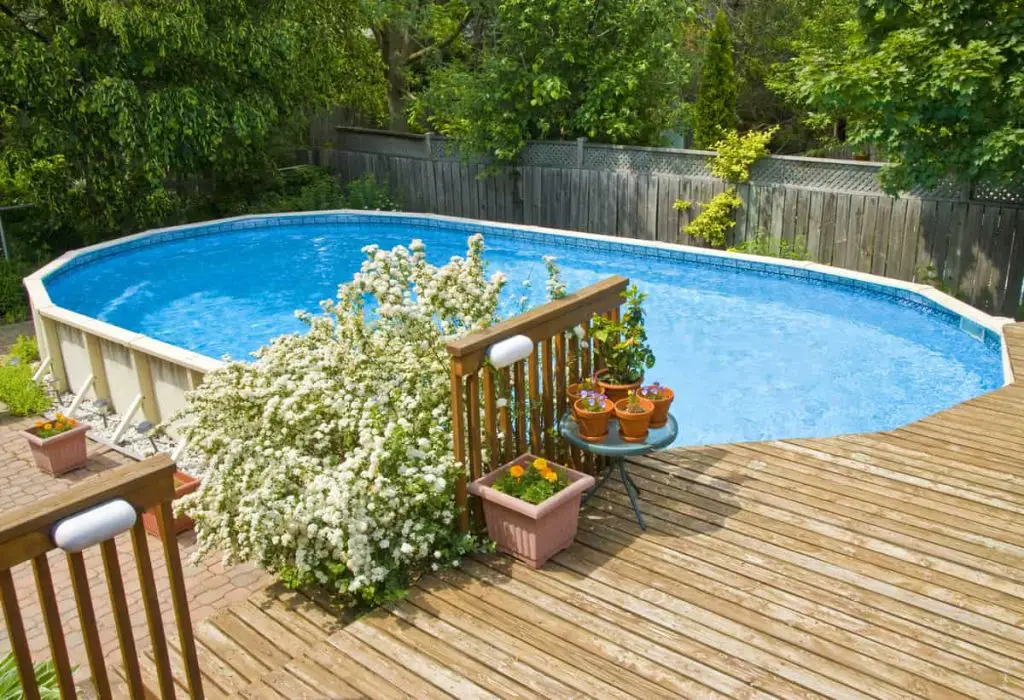 Here's How Much an Above-Ground Pool with a Deck Costs 
Above-ground pools look much better with a deck, so you want the complete package with both. This can save you money, so it's worth doing. 
According to HomeGuide, an above-ground pool itself runs between $2,811 and $11,200, depending on the size of the pool. 
Deck manufacturer Trex states that an above-ground pool deck is $4,700 on the low end up to $7,800 on the high end. 
Per square foot, you might pay anything from $15 to $30 on a pool deck, depending on the material. Deck Cost Guide breaks down the prices per square foot as follows:
Cedar deck: $4 to $8.75 for materials and $3.25 to $7.25 for installation
Pressure-treated lumber deck: $5.75 to $12.50 for materials and $5.25 to $10 for installation
Redwood deck: $9 to $14 for materials and $4.35 to $8.50 for installation
Tigerwood deck: $8 to $15 for materials and $4 to $8 for installation
Composite deck: $6.75 to $14.25 for materials and $4.75 to $9.75 for installation
Plastic or PVC deck: $8.25 to $15.75 for materials and $4.75 to $9.75 for installation
Aluminum deck: $13.50 to $25 for materials and $4.50 to $9 for installation
That brings the overall project costs to:
$7.25 to $16 per square foot for cedar
$11 to $22.50 per square foot for pressure-treated lumber
$13.35 to $22.50 per square foot for redwood
$12 to $24 per square foot for tigerwood
$11.50 to $24 per square foot for composite
$13 to $25.50 per square foot for PVC
$18 to $34 per square foot for aluminum
If your pool has one deck end and is 56 square feet, HomeGuide says the deck will cost $1,400. For a one-sided deck that's 112 square feet, the cost is $2,800, and for a two-sided deck that's 184 square feet, you could pay up to $4,600.
A three-sided above-ground pool deck that measures 256 square feet is approximately $6,400. For a four-sided deck that's 400 square feet, the cost would be $10,000. 
When you roll everything into one package, the prices are between $2,500 and $11,200 for both the pool and the deck, says HomeGuide. Remember, an above-ground pool can cost $11k, so this package is very economical.
We'll talk in the next section about how big your above-ground deck should be, and that will help you determine which of these estimates is most appropriate for your situation.
How Big Should an Above-Ground Pool Deck Be?
If your above-ground pool hasn't been built and installed yet, determining deck size may be difficult. You don't want to go too small with the deck, even if that would be less expensive because your yard will look strange. Paying for too much decking certainly isn't ideal, either. So how big should the deck be?
At a minimum, the usable area of an above-ground pool deck should be equivalent to the square footage of the pool itself. So, for a 20ft by 15ft rectangular pool, the deck should be at least 300 square feet. Additionally, your deck should be no smaller than four feet in width as is the code requirement for most counties.
Although having your deck's square footage the same as the pool's square footage is a good starting point, the deck will very likely be even larger depending on your yard configuration. For example, you might need the deck to surround the perimeter of the above-ground pool.
Whether you have to enclose the entire pool with decking or only a portion of it can vary by your municipality. 
Besides legal rules, you also should consider the design of your above-ground pool and deck. You might decide to add more deck than what's required simply because it looks better.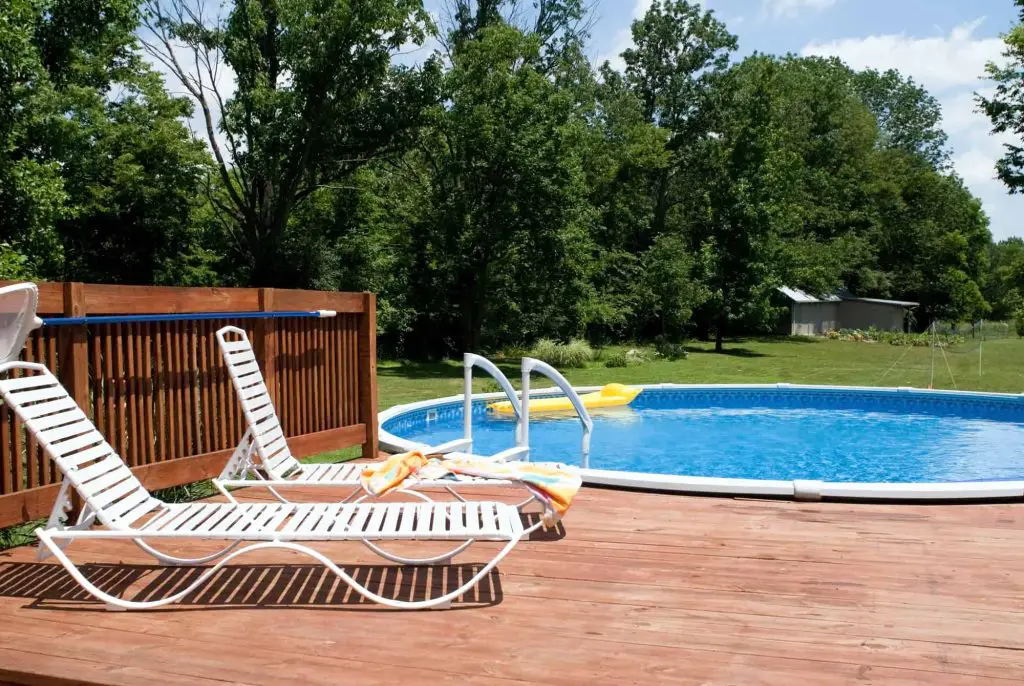 Why Add a Deck to Your Above-Ground Pool?
Measuring and planning for an above-ground pool deck is a lot of work, as I'm sure you're beginning to realize. However, doing so is quite beneficial for the following reasons:
Makes Your Yard More Appealing
A well-designed deck such as these examples shows that above-ground pools can look just as attractive as in-ground pools with the right deck. Every summer, you won't be able to wait to peel the pool cover off and begin entertaining friends, family, and neighbors in your above-ground pool. 
Might Improve Curb Appeal
Swimming pools can increase your home's curb appeal, and one that's well-maintained and has a new deck could drive up the cost of your property by quite a good amount more. Even if you have no intention to sell your house anytime soon, it's good to know how valuable it is. 
Increases Ease of Accessibility 
It only takes one slip and fall on the above-ground pool ladder for you to be extra cautious about the kids and the rest of the family using the pool. A deck makes entering and exiting the pool safer, so being in the pool can be more about enjoyment than stress. 
Can You Buy a Deck Kit for an Above-Ground Pool? Where?
Let's say you've had your above-ground swimming pool for several years now, and you want to add a deck to it. Is it too late? Not at all. You can always look into a deck kit; a prefabricated system sized to fit around your swimming pool. 
Family Pool Fun is one such retailer of these kits. Theirs are available in several sizes, including 5×5, 5×10, and 5×13. However, the prices are rather steep. The 5×5 kit costs $1,565, the 5×10 kit is $2,800, and the 5×13 kit retails for $3,400.
Swimming Pool Discounters is another retailer of pool deck kits. They price each of their kits by zone, possibly for shipping reasons. You can select from five different deck sizes: 4×8, 8×8, 4×16, 8×12, or 8×16. 
The 4×8 deck costs $1,199.99 to $1,399.99, the 8×8 deck kit is $1,799.99 to $2,199.99, and the 4×16 deck kit is priced the same as the 8×8 kit. The 8×12 kit costs between $2,499.99 and $2,799.99 and the 8×16 kit is $3,199.99 to $3,399.99. 
How does one of these kits work? Well, in the case of Family Pool Fun, the deck is non-skid modular resin with powder-coated steel braces underneath. If your above-ground pool is 48 inches to 52 inches deep, then you can use one of these kits in your yard. 
The deck includes a cantilever design that's intended to prevent gaps. Also included with your purchase are ladders. The pool ladder has anti-entrapment wings for swimming safety, while the deck ladder includes a self-latching gate. 
Can You Buy Plans and DIY an Above-Ground Pool Deck?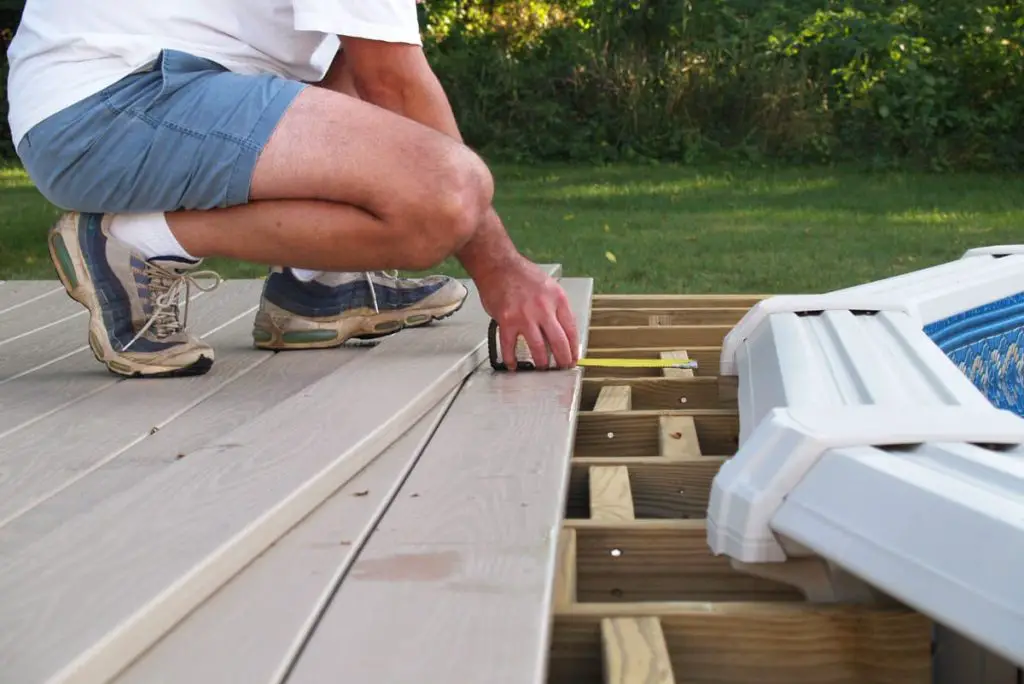 After researching deck kits, if none of the kits you've seen are large enough to fit your pool, maybe you can download a plan for DIY installation?
Decks.com has various pool deck plans you can browse, including free plans. You can also select a variety of deck sizes, from 10×10 to 16×16, so these larger decks are sure to match a sizable above-ground pool. 
Even better is that Decks.com tells you how much your deck-building project will cost. Let's say you needed a 10×10 deck for your above-ground pool. If you build the deck out of redwood, you'll pay $1,701.93. For a cedar deck, it's $1,719.30, and for an exotic hardwood deck, you'd pay $3,349.89. 
Building a pool deck from scratch doesn't necessarily save you money compared to buying a deck kit. Plus, you must be very careful when building your deck. Cutting corners to lower the costs could lead to deck instability. 
Conclusion 
Above-ground pools with decks can cost up to $11,000, but that's because neither component on its own is inexpensive. Should you already have an above-ground pool, it's not too late to build a deck around it. You can either download a plan and go the DIY route or order a deck kit straight to your door.