There are plenty of ways to add more spectacle to your pool. One option to consider is adding pool deck jets. However, not every pool add-on is worth the money. So how much do deck jets cost, and are they worth adding?
A pool jet will usually cost around $1,200 to install. They can be a visually impressive addition to your pool, especially when combined with an LED light. However, compared to some of the other accessories on the market, they tend to be relatively expensive. 
Adding a pool deck jet to your pool is a big decision, especially if you do it after your pool has been installed. Not only will you need to pay for the parts, but you'll also need to hire someone to come and install them for you. You need to understand the pros and cons of deck jets so you can determine whether they are the best option for you.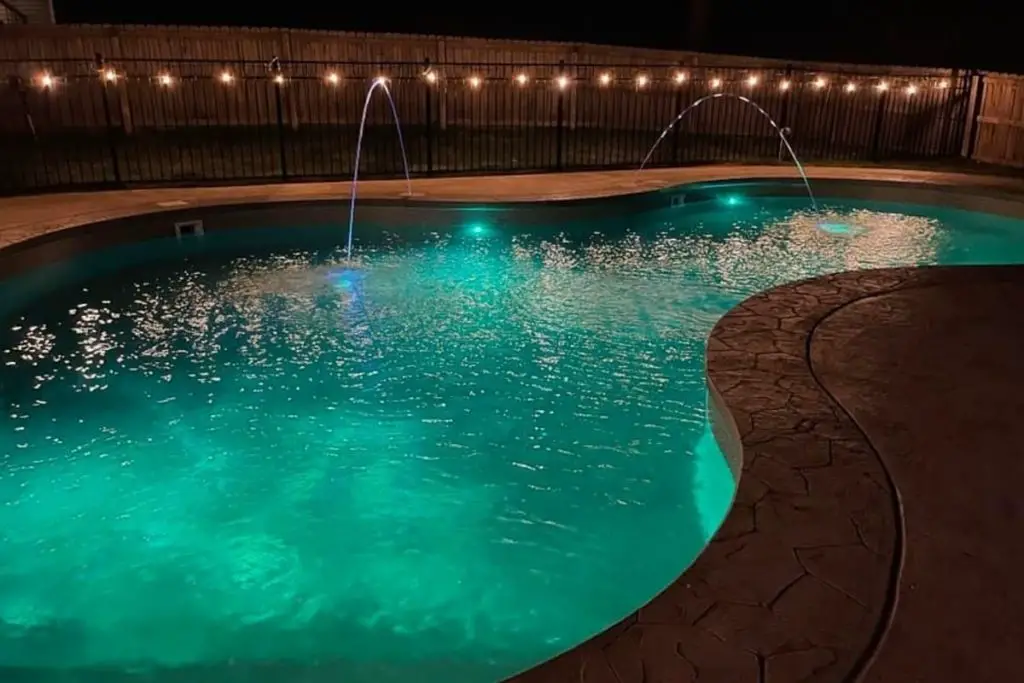 What are Pool Deck Jets? 
Deck jets are designed to be embedded into your deck. They shoot a jet of water into the air, forming a graceful arch that lands in your pool. 
The jets have nozzles that allow you to customize the display of the streams. For example, you might want a thinner stream that will give you more distance, or you can choose to get a wider spray creating a larger stream.
There are a few other ways to embellish deck jets. Some pool owners will install lights in the base of the deck jet, creating multi-colored arches at night. Sometimes, these can be programmed to change color, creating a stunning light show. 
Deck Jet Costs
Many people will have a fixed budget to allocate to improving their pool. How much you will need to set aside to pay for pool deck jets will often depend
Generally, installing a deck jet system around your pool will cost between $800 to $1,200 per jet for the basic option. Pricing depends on a few things, including:
Number of jets installed
Type of jet you want
Labor costs for installation
Inclusion of LED lights or any other enhancement
Market prices may also be location-specific, so, it's a good idea to call up a few different local pool companies and request a quote. 
It's also important to consider when you decide to put in the jets. It's often easier to request them when you are planning the pool, which will allow the builder to get the plumbing in place upfront. It will be a more complex process if you opt to put them in later, not to mention increasing labor costs to at least $16 an hour.
DIY Pool Deck Jet Options
There are a couple of options you can explore if you already have your pool installed and are considering adding jets to your pool.
Convert your pool return jet into a water feature
Before incurring the large expense of adding deck jets, you can test the feature with a makeshift solution from Amazon. The kit includes the components needed to transform your underwater pool return jet into a fun water feature. With this add-on, you will be able to experience the soothing sound and fun without having to fork over all the dough!
[amalinkspro type="showcase" asin="B0007PKYRM" apilink="https://www.amazon.com/dp/B0007PKYRM?tag=backyardpoolguy-20&linkCode=osi&th=1&psc=1″ new-window="true" addtocart="false" nofollow="true" sc-id="4″ img-sizes="500:375″ imgs="https://m.media-amazon.com/images/I/61HdizZkY6L._SL500_.jpg" link-imgs="false" specs="Water feature and décor for most in-ground pools (check fitting size)~~~Fully adjustable water spray height and direction~~~~~~Add beauty and serenity to your pool, will also help to cool pool temperature during hot summers~~~Easy to install~~~Works for above-ground and in-ground po" btn-color="#ff9900″ btn-text="See on Amazon" alignment="aligncenter" hide-prime="0″ hide-image="0″ hide-price="1″ hide-button="0″ width="750″]Poolmaster 54507 Spa and Swimming Pool Waterfall Fountain, For Pools with 1.5-Inch Threaded Return Fitting[/amalinkspro]
DIY installation into deck
This option is not for everybody and will take a solid understanding of your pool's plumbing system and contractor skills to complete. If you possess the proper skills, u should be able to get the raw materials for under $50 per jet. If you want higher-end products or jets that come with a light, you'll be looking at over $250 per jet. 
Why Deck Jets Can Be A Great Addition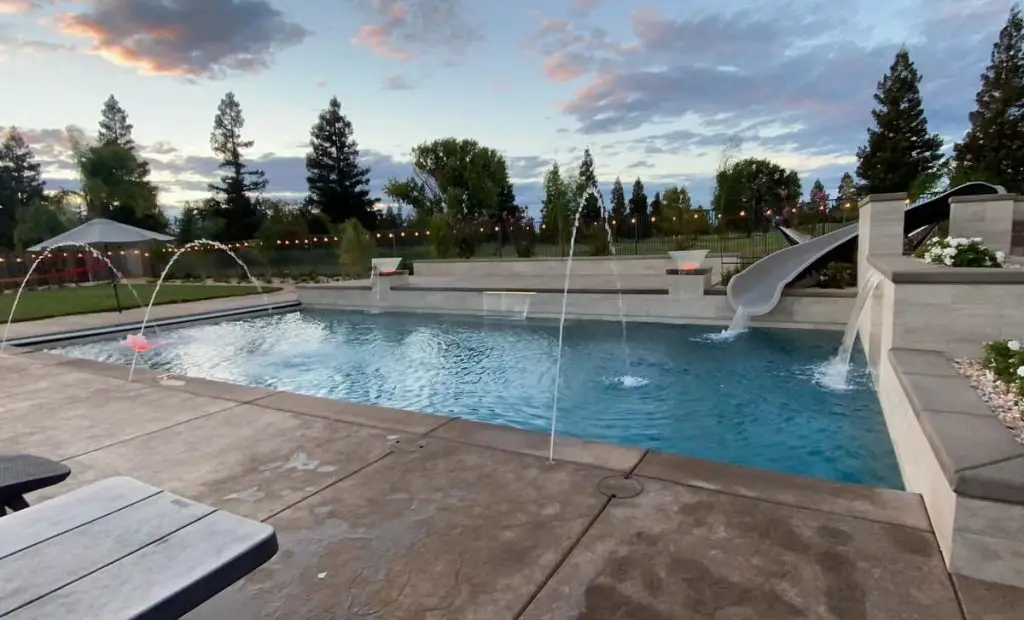 There are plenty of reasons why someone might want to install a pool deck jet. These include:
The aesthetic appeal of the jets. Watching the water arc through the air is very entertaining, especially if you choose to get a light installed in the base. 
They are a lot of fun for kids. If you have children, they will love to run through the water jets like they are at a water park! 
The sound of the water hitting the pool is also very relaxing. It can also help create a sound barrier, so your neighbors don't need to hear everything you say. 
 Increased water flow oxygenates the water. This will cool down your pool, which is especially important for those who live in a warmer climate. 
You can customize the jets. It's as easy as changing the nozzle. There are dozens of combinations that you can use depending on how you want them to look. 
Downsides to Pool Deck Jets
Before installing deck jets, there are downsides that you should consider. These include: 
Pool deck jets can be costly. As we mentioned, they can cost around $1,200 per jet. Most pools will need at least two or three to look impressive. The cost of maintaining and operating the jets can quickly add up. 
More winterization for colder climates. When you install the jets, you'll need to use pipes to connect the jets to the pool. If you live in an area that sees freezing temperatures, this can create yet another headache. Any water left in the pipes can turn to ice, which causes expansion and the pipe's potential to crack. The results can be quite costly. 
Clogging occurs easily. One of the biggest problems with these systems is that they can be get clogged up. Often, it will just take a small amount of dirt to cause a big problem. Not only will this ruin the aesthetic the uneven pressure can start to damage the pipes. 
There are more cost-effective alternatives available. As we'll discuss in the next section, there are many other water features that you can install for a lower price. 
Alternatives to Deck Jets Worth Exploring
Hopefully, you now have a better idea of whether or not pool deck jets are the right choice for your home. If they aren't, you don't need to despair. There are plenty of other water feature alternatives that you will be able to explore. 
One of the most popular is a waterfall. When installed properly, it will be a visually stunning addition to your pool. The good news is that there are plenty of options for you to choose from. Furthermore, these will also oxygenate the water, cooling down your pool. Plus, it tends to be easier and cheaper than installing pool deck jets, and on average, they will cost around $1,500. 
Secondly, you might want to consider adding a bubbler. In this case, the water will flow upwards from underneath the pool, like a geyser. It can be a spectacular effect, particularly if combined with an LED light. If you want a basic bubbler, you can expect to pay $500. If you want one with an LED light, you can expect to pay $1,000. To see one in action, watch this video:
Lastly, you might want to consider a fire bowl. Firebowls are one of the most visually impressive ways of showing off your pool. Plus, it can be a place to stay warm during the winter. These tend to be one of the most expensive pool accessories, as they can cost upwards of $3,000.
However, there are some much more affordable options that can be picked up for a fraction of the cost on Amazon. This unit is gorgeous, runs on propane, and can be moved around your pool deck any time you want to change up your pools presentation.
[amalinkspro type="showcase" asin="B089RDLN9X" apilink="https://www.amazon.com/dp/B089RDLN9X?tag=backyardpoolguy-20&linkCode=osi&th=1&psc=1″ new-window="true" addtocart="false" nofollow="true" sc-id="4″ img-sizes="500:500″ imgs="https://m.media-amazon.com/images/I/41rT42Ff+lL._SL500_.jpg" link-imgs="false" specs="Rustic stacked stone look blends well with various backyard decor styles~~~Safe Burning without Smoke~~~Durable & Fire-Resistant Materials~~~~~~Convenient and Easy to Use" btn-color="#ff9900″ btn-text="See on Amazon" alignment="aligncenter" hide-prime="0″ hide-image="0″ hide-price="1″ hide-button="0″ width="750″]Giantex Propane Firebowl Column, 40,000 BTU Outdoor Gas Fire Pit, Compact Ledgestone Firepit Table with Lava Rocks and Rain Cover[/amalinkspro]
Final Thoughts
Ultimately whether adding pool deck jets is worth it will depend on what you are looking to get out of them. If you want something that will add some vibrancy and excitement to your pool area, it can be a great solution. If you are on a tight budget, there may be other options worth looking at.