Having a swimming pool and deck can bring great fun to your household. When constructing a swimming pool, consider the project's entire configuration before choosing other decking features and amenities. Prospective pool owners frequently ask, how thick are typical concrete pool decks?
A concrete pool deck should be at least 6″ (15.24 cm) thick for optimum strength. However, you can have a minimum thickness of 4″ (10.16 cm) for concrete slabs on grade. For long pool decks, you can even go as high as 8″ (20.32 cm). 
The deck should also have reinforced rebar for sufficient strength and endurance. Here are some essential details about concrete pool decking.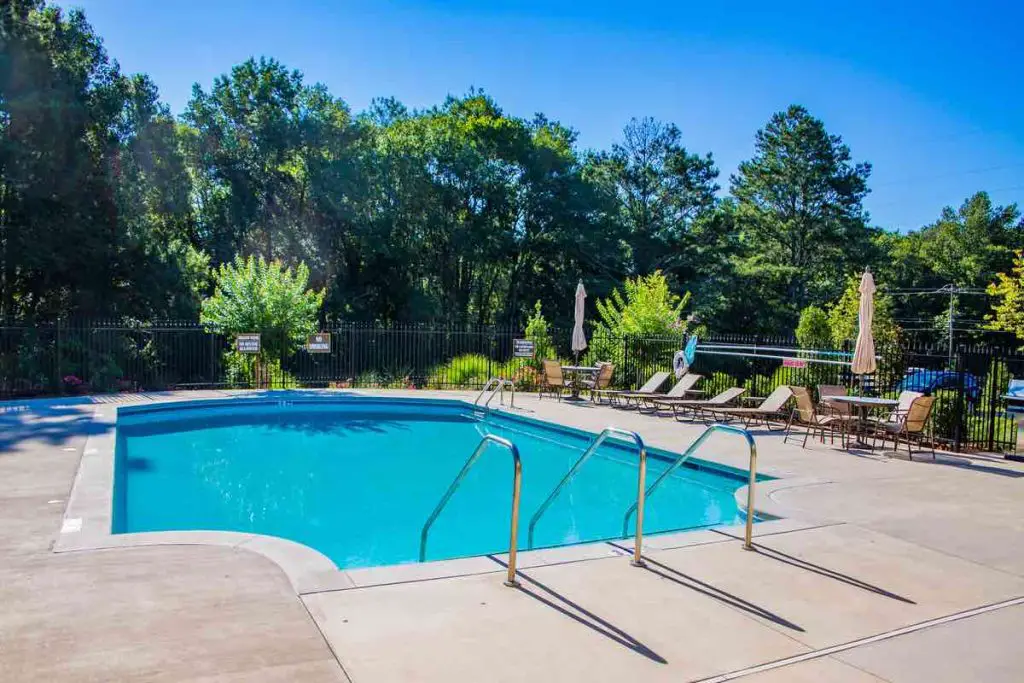 The Best Concrete Pool Thickness
An excellent way to create a deck that is both practical and long-lasting is by using concrete pool decking installation. Concrete has recently gained popularity as a pool decking material owing to its economical, eco-friendly, and aesthetic benefits.
First, decide how thick the concrete pool decking should be depending on the soil condition and the area of the deck. 
A 4″ (10.16 cm) thick concrete slab will work nicely for a small deck of about 500 square feet or less on a sturdy subgrade and well-compacted base. You can add fibers or wire mesh to it as extra security.
However, a 6″ (15.24 cm) and above concrete thickness is ideal since most pool decks on backfill will exceed 400 square feet (37.16 square meters). Hence, the concrete would have a lot of flexural stress due to the longer length and uneven soil settling, leading to cracking. 
Thus, 6″ (15.24 cm) or higher concrete thickness is necessary to maintain the optimum strength of the deck. 
For long pool decks, you can even go as high as 8″ (20.32 cm). Of course, you need to install rebar in the pool deck to ensure enough concrete flexibility and to reduce the likelihood of cracks.
Factors Determining the Ideal Decking Size
When planning to construct a pool deck, it's often wise to seek the advice of professionals in the field. Qualified pool builders will advise you on local laws and create the best deck plan for your project since some towns have minimum specifications for residential pool decks.
As a general guiding rule, your pool deck should be at least as big as your pool in terms of area. For instance, you should plan a 400-square-foot (37.16 square meters) patio if your pool is 400 square feet (37.16 square meters).
The following elements should help you decide the best size for your new deck, which portions of your backyard should cover, and your project budget.
1. The Pool's Configuration
Apart from the available space and local laws, the pool's design and placement also impact the size of your deck. 
In most backyard layouts, the far side of the pool, typically comprising the space furthest from your house, will have a minimal yard. In such cases, no one is likely to stroll on that side of the pool; hence, there won't be a need for decking installation.
It's crucial to make the most of your deck budget by configuring the deck to your advantage. Depending on the deck's intended usage, you can reduce or add the total square footage of the deck surrounding your pool.
2. The Number of People Regularly Using the Pool Deck
When planning for the size of your pool deck, you should factor in the size of your family and the activities likely to take on the deck. This means estimating the maximum number of people you'll have on the deck, whether it's small pool parties or dining and barbecuing outside with friends.
Your deck and patio area must have room for everyone and their activities. Make sure there is enough space to accommodate the number of occupants.
3. The Backyard Space Receiving Regular Traffic
A crucial step in determining how much decking will work best across your backyard is identifying the best places to receive decking. The backyard should have decks where there will be the most activity; this often includes the area between your home's rear and the swimming pool, which is frequently close to a backdoor.
4. The Type of Furniture and Accessories on the Pool Deck
Be sure to account for the deck furniture, a necessary component of backyard living, while determining the size of your deck and how it should be arranged around your pool and outdoor area.
Most homeowners find it helpful to have at least a few pieces of accessories and furniture, such as loungers and cocktail tables, positioned close to the pool. The furniture should fit on your deck and leave enough "breathing room" between items to ensure that people don't feel crowded while on the pool deck.
Do You Need Rebar On a Concrete Pool Deck?
If your concrete slab is 4″ (10.16 cm) thick or less, rebars are not required. However, you might reinforce it with steel wire mesh or fiber mesh. On the other hand, concrete slabs that are 6″ or thicker must have rebar reinforcement in the pool deck.
Despite its incredibly high compressive strength, concrete has a low tensile strength. Therefore, reinforcing such as rebar is needed to compensate for the low tensile strength or flexibility of concrete.
Concrete slabs on grade need rebar or any other sort of reinforcement to handle the tension of the loads brought on by the erratic shifting of the grade below and temperature changes.
Thus, rebar reinforcing in 4″ (10.16 cm) thick concrete is not ideal since achieving the necessary tensile strength with such thickness is impossible. Moreover, a 4″ (10.16 cm) thick concrete slab cannot even contain rebars.
Concrete pool decks of 6″ (15.24 cm) or higher are more likely to crack and become uneven without rebar reinforcement due to the tensile forces from soil movement and thermal expansion and contraction.
Interested in learning more about concrete pool decks? Learn about the most effective way of removing paint from a concrete deck in my guide. I'll give you a step-by-step process.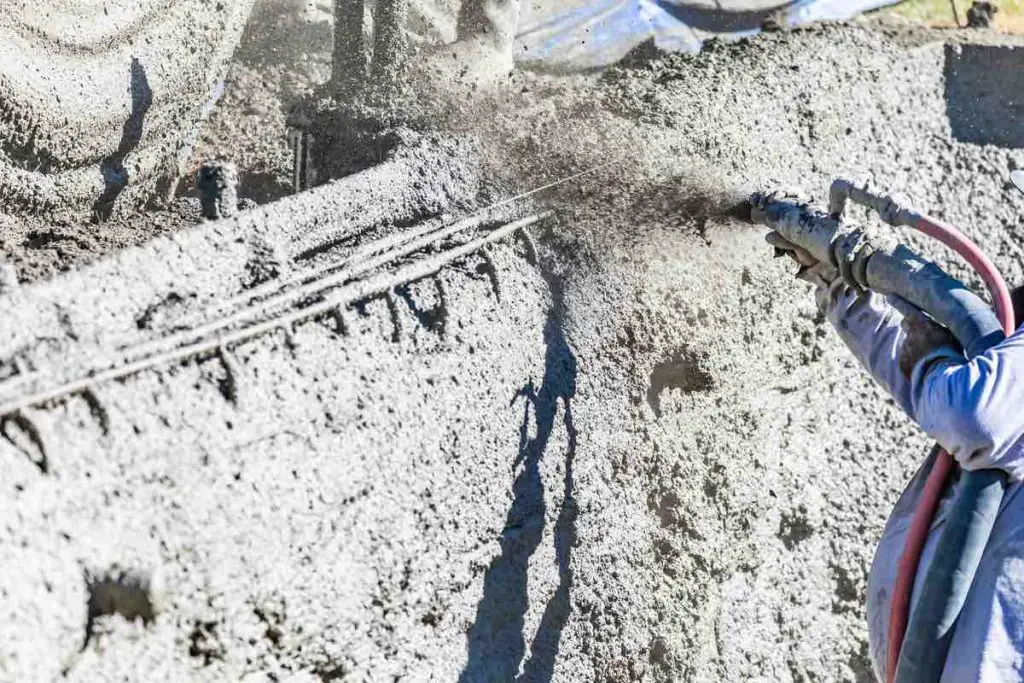 Conclusion
Given the significance your pool deck plays in your backyard, it's crucial to consider its appropriate thickness. 
When deciding the optimum amount of decking for your outside space, ensure that the dimensions of your new deck and the activities your family wants to do in the backyard match. 
Sources