Everyone wants a beautiful tropical paradise in their backyard. If you have a swimming pool, you're already halfway there. There are plenty of ways to make a swimming pool look more like a tropical oasis than a traditional outdoor pool. If you want to revamp your backyard, you're in the right place.
To make your pool look tropical, add water features, use vibrant plants, and add outdoor thatch furniture. You can also place canopy umbrellas, tiki torches, and hammocks around the pool. Those looking for the ultimate tropical pool should get a pool building company to construct a grotto.
In this article, we'll break down each of the various ways to make your pool look more tropical. We'll also provide product recommendations to help you on your journey to a backyard paradise.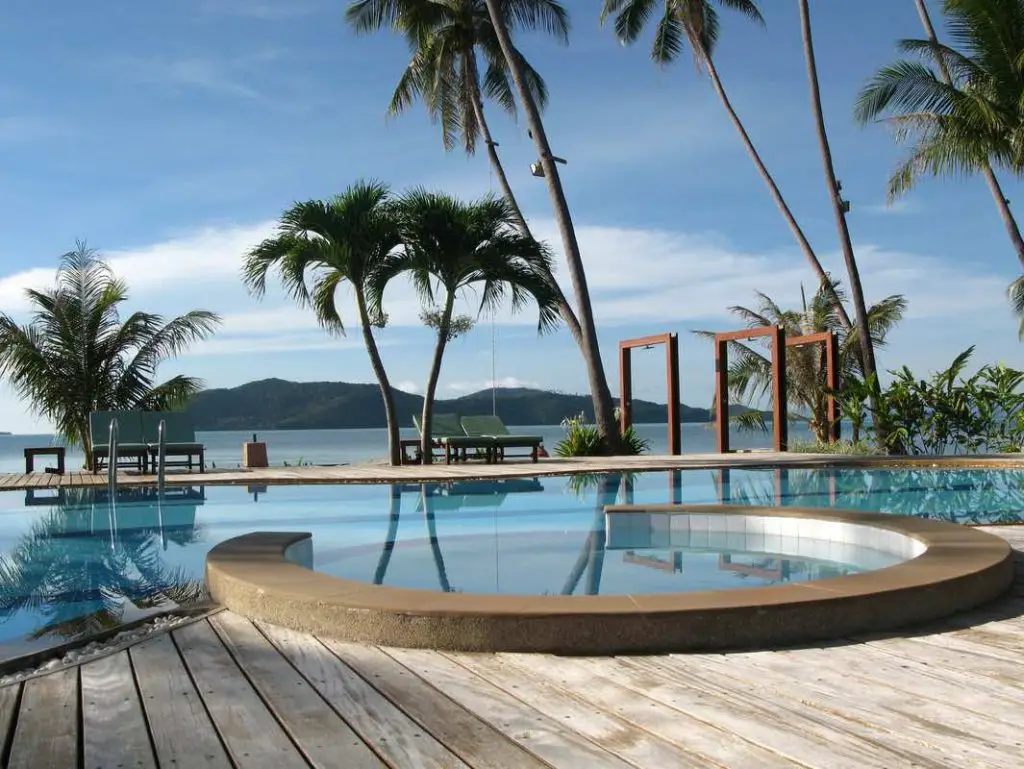 Add Water Features
Finyl Vinyl BP suggests adding water features in and around your swimming pool to turn it into an outdoor paradise. You can add fountains, water slides, and ponds near the pool. These features should look as natural as possible, so stick to earth tones.
The Swimline Triple Tier Floating Pool Fountain has a beautiful tropical design that adds life to your swimming pool. This fountain goes between 7 to 16 feet, making it quite the centerpiece for the pool. It also includes a one-year limited manufacturer warranty.
Use Vibrant Plants
Tropical vacations are known for their bright colors, especially their plants. If you want to make your swimming pool look more tropical, consider adding a handful of vibrant plants nearby. Pink, orange, yellow, and blue are all perfect flower colors for your swimming pool. The best part is that you can choose artificial flowers to limit their maintenance.
Keep these things in mind when planting anything near your pool:
Bamboo is a perfect poolside privacy wall.
Always remove leaves, flowers, and stems from the water to prevent algae growth.
Make sure the plants are far enough from the pool to not get chlorine in the soil.
Add Outdoor Rugs and Furniture
Swimming Pool explains having a lounging area is crucial for anyone looking to have an inviting backyard. Surround your pool with a few lounge chairs, outdoor rugs (with anti-slip mats under them), and other furniture. Outdoor rugs serve a double purpose because they also stop people and pets from sliding around on slippery pool decks.
Quick Tip: If you get outdoor furniture, consider choosing treated wood or porous thatch. Acacia wood works well outdoors because it's naturally water-resistant and it doesn't scratch too easily. It's also quite heavy, which means the wind won't push it around. If you have thatch furniture, it's best to pin it down during a windstorm.
Don't Forget Canopy Umbrellas
The COOS Bay Umbrella Canopy is an excellent example of a high-quality umbrella that makes your backyard look like a tropical vacation spot. It has a foldable mosquito net and you can choose from five colors to match your backyard. You can mount this umbrella to the ground or keep it freestanding.
If you don't want to use a canopy umbrella, you can get an acacia wood table with an umbrella mounting hole in the center. Providing various forms of shade will keep your guests comfortable while mimicking the cool breeze of a tropical destination.
Try Tiki Torches and Outdoor Lighting
Tiki torches instantly bring you to a tropical island paradise. You can choose artificial or real tiki torches to set the mood. Fake tiki torches are better if you have children and pets or if you don't want to have to monitor them around the clock. However, real tiki torches provide a unique appearance combined with warmth during the night.
People's Flowers shows adding a few string lights or outdoor lamps can make a world of difference. Not only does it stretch your swimming hours, but it also enhances the tropical atmosphere. Combine it with thatch furniture for the best look. You can also use underwater lights if you don't want to illuminate the fence or shine bright lights into your neighbor's windows.
Hang Hammocks Around the Pool
Nothing says relaxing like a hammock by a tropical swimming pool. Hang one or two hammocks near the water to make it much more laid back. You can also choose free-standing hammocks if you don't want to tie the hammocks to anything.
Consider choosing netted hammocks because they're more breathable. They also weigh less, which means you can easily move them around the yard for different guests. Tied hammocks have the undeniable advantage of being able to be put away pretty much anywhere.
Build a Grotto
Grottos are the perfect outdoor oasis. They're small caves connected to swimming pools that look as tropical as it gets. Some people have spas in their grottos, while others make them an extension of their swimming pool.
Getting a grotto would undoubtedly be the most expensive way to make your pool look more tropical, but it's well worth the investment for many pool owners. You can design your grotto to look like a natural cave surrounded by plants or one with water features all around it.
Put Rocks Around the Swimming Pool
You can use real or artificial rocks around the edge of the pool. Combine the aforementioned water feature suggestion by making a small waterfall trickling through the rocks. Real rocks need special attention because they can stain quite easily. Wash them every few weeks to prevent calcium buildup.
If you have artificial rocks, make sure they're mounted with sand, bolts, or cement. If the rocks are too loose, they'll fall into the pool or cause tripping hazards. Use a mix of small, medium, and large rocks to make the setup look natural around the pool.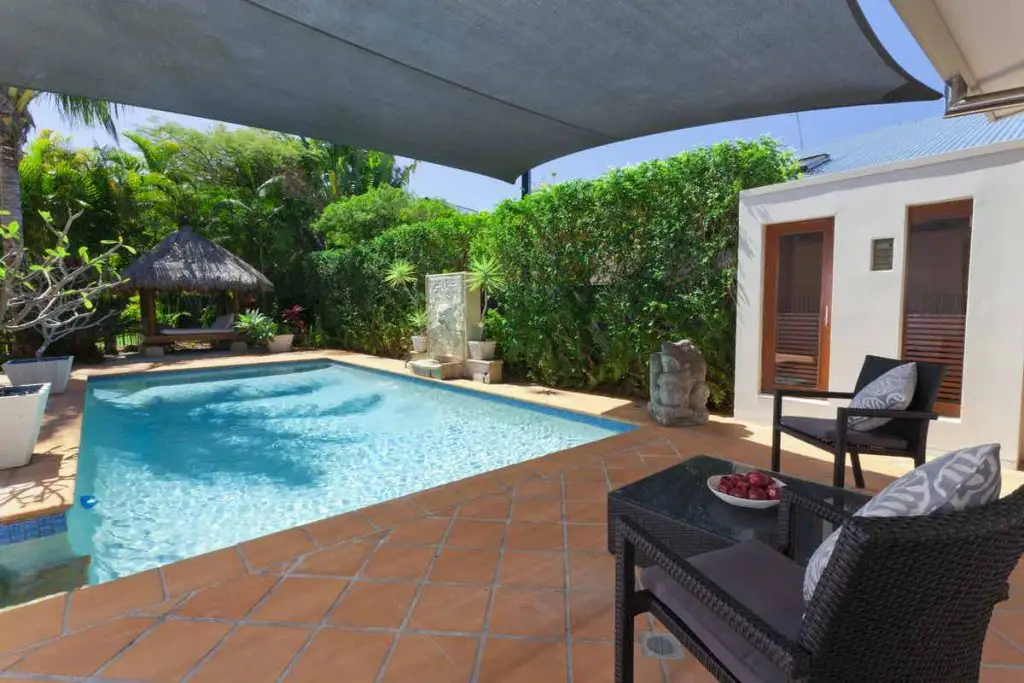 Final Thoughts
Whether you want to go all-out with a grotto or add minimal changes, such as tiki torches and hammocks, there's always a way to improve your pool setup. A tropical swimming pool is much close than you think if you know where and how to start.
Sources