Stamped concrete is one of the most visually appealing deck materials you can put around a pool. Not only does it look great, but it also lasts a long time. However, this durable concrete variant is much more slippery than traditional concrete. It's not as porous and rough, so some pool owners worry if it's the right material for their pool.
Stamped concrete isn't too slippery for a pool deck because you can put an acrylic sealer over the concrete to make it less slippery. Untreated stamped concrete is quite slippery, so you should place cautionary signs around the pool deck. Consider using deck mats to provide dry surfaces.
Throughout this post, we'll explain whether or not stamped concrete is too slippery for a swimming pool deck, how you can reduce the problem, and why some people believe it's the best deck material available.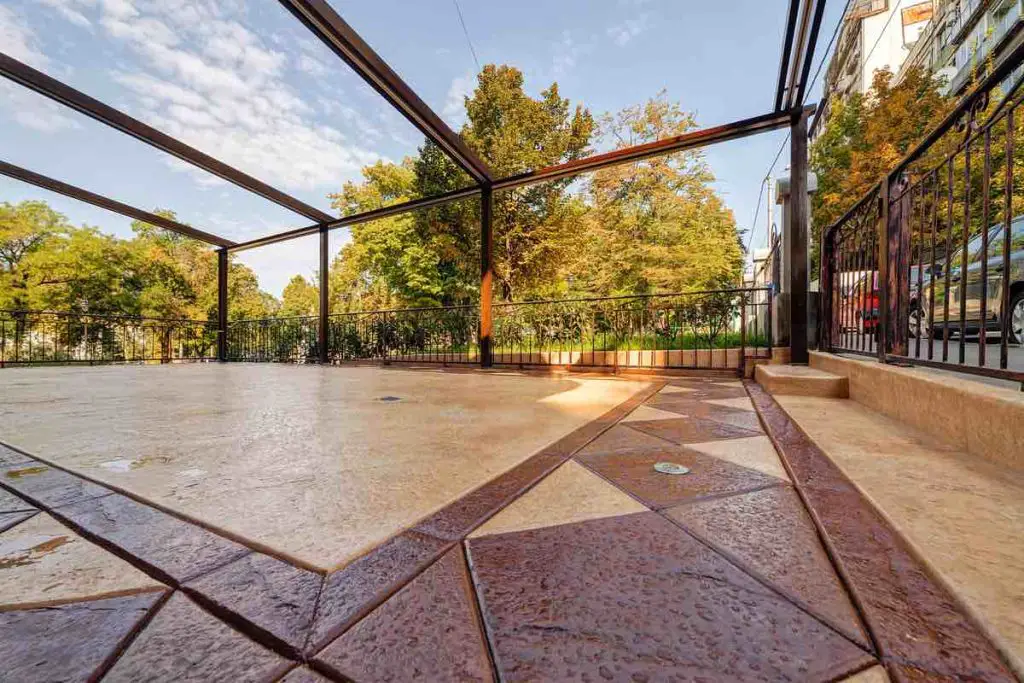 Is a Stamped Concrete Pool Deck Slippery?
Stamped concrete pool decks can be quite slippery if you don't have a textured mixture or a sealer over the top. It's made to look glossy and shiny, but the soft, smooth texture is quite counterproductive for swimming pool slips. However, it remains one of the most widely used deck materials despite these downsides.
So, why do pool owners choose stamped concrete if it's slippery?
For starters, it's extremely good-looking. It looks better than traditional concrete, tiles, most wooden decks, and so on.
Another reason is that stamped concrete is incredibly tough. It doesn't crack and burn, nor will it break under immense pressure. You can put a barbecue pit on top of stamped concrete, and it'll look as good as new.
Some homeowners don't notice that stamped concrete is slippery until it rains or they get a lot of pool water on the deck. It's not too slippery when it's dry, but looks can be deceiving. Stamped concrete is undoubtedly more slippery than wood.
Cesar's concrete explains that a lot of stamped concrete is slippery because it's oversealed. People desire a shiny, glossy look. However, using too much sealer will inevitably make the concrete much more slippery.
On the bright side, there are several things you can do to make stamped concrete pool decks less slippery. Most of the methods work best before laying the concrete since they require additives in the mixture. However, it's never too late to modify the stamped concrete pool deck to make it safer for swimmers and pets.
How Do I Make My Stamped Concrete Pool Not Slippery?
To make your stamped concrete pool not slippery, try these five techniques:
Add a slip-resistant coating to the top of the stamped concrete. For example, Slip Doctors Non-Slip Concrete Sealer is an excellent choice. It goes over all kinds of concrete, including your stamped concrete pool deck. This solution adds a bit of texture to increase its water resistance and limit slipping possibilities.
Find a company that uses color hardeners during the installation process. Concrete Decor claims color hardeners are one of the most underrated solutions to slippery stamped concrete around swimming pools. It locks the color, but it also hardens and texturizes the surface when added correctly.
Place non-slip outdoor mats or rugs around the pool exits. Outdoor rugs are stylish, visually appealing, and quite inexpensive compared to indoor rugs. They often have a non-slip grip to prevent them from sliding around in the wind and rain. However, this textured surface also works for stamped concrete.
Choose your stamped concrete with extra grit. The additional grip barely changes the concrete's appearance. That being said, it makes it much easier to walk on without slipping after getting out of the swimming pool. Contact a handful of local companies to find out which ones let you add grit to the mix.
Select an installation company that uses a coarse mixture. Much like added grit from the previous suggestion, coarse concrete is significantly less slippery than regular stamped concrete. It looks incredible, but you can add a wet gloss to make it look shiny and brand-new for many years to come.
These tactics will drastically reduce your stamp concrete's slippery problems. However, stamped concrete almost always has a slight slipping potential. If you're worried about slipping on this surface, make sure everyone in the pool knows to walk slowly and avoid running around the clock.
I also recommend reading my article on making concrete less slippery around posts. I share a few specific tips about stamped concrete and posts. 
Is Stamped Concrete Good for a Pool Deck?
Stamped concrete is good for a pool deck because it's resilient, durable, and easy to maintain. The only downside of using stamped concrete around a swimming pool is that it's a bit slippery. Extra grout, grit, and outdoor mats can make a world of difference by limiting the exposed slippery surface around the deck.
According to Concrete Network, the more seams and grout lines you have in the stamped concrete, the less slipping you'll have to deal with. We suggest avoiding seamless stamped concrete around swimming pools because there's almost nothing to stop you from sliding around. Keep in mind that you can choose textured stamped concrete for additional grip.
Another thing to remember is that stamped concrete comes in a variety of shapes and sizes. If you choose wide, smooth concrete, you'll have a higher chance of slipping. However, small, lined concrete is much better for swimming pools. It looks wonderful, but you don't have to deal with slipping too often.
Regardless of which kind of stamped concrete you choose, you'll inevitably encounter slippery surfaces around the pool. Stamped concrete is significantly less textured, porous, and grippy compared to regular concrete. The best way to avoid slipping is to ensure nobody runs around the pool. Also, take caution when getting out of the pool quickly.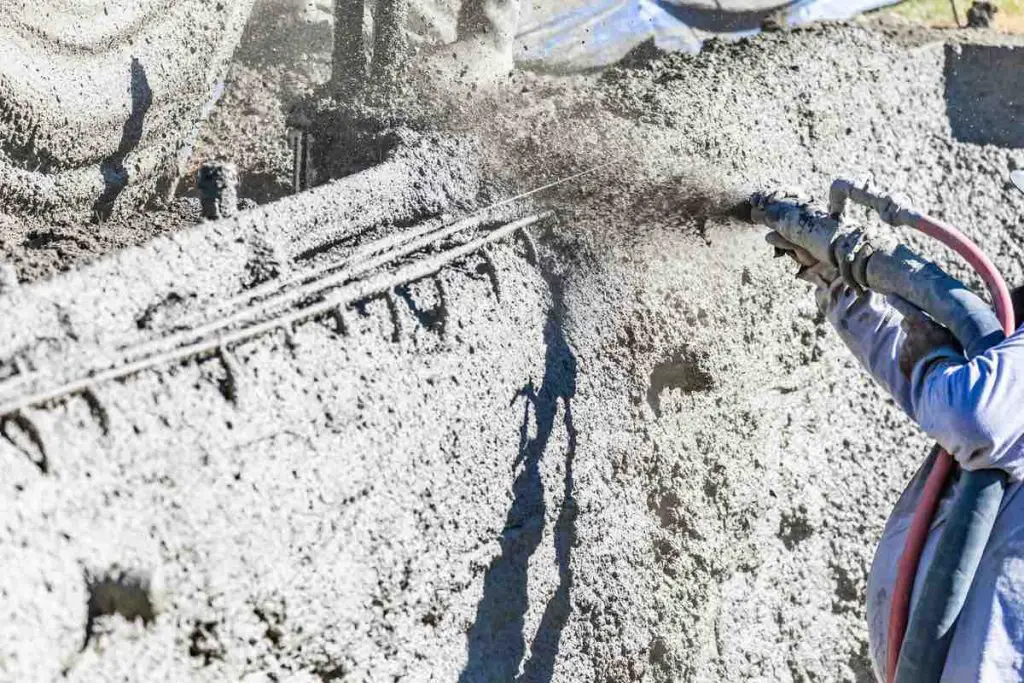 Final Thoughts
While stamped concrete is quite slippery when wet, you can add various treatments and covers to protect it (and the swimmers around your pool). This aesthetically pleasing deck material comes in numerous shapes and sizes. Find the one that suits your pool and ensure it's treated to make it less slippery.
Sources