Teaching kids to swim is something on most parents' lists when it comes to their physical development. Knowing how to swim from a young age can save a person's life, and it opens up a whole new world for young kids. But are baby swim lessons worth your money?
Baby swim lessons are worth the cost as it helps your infants get used to the water and develop a mental familiarity with the basic swim movements. It's also great for their physical and mental well-being and exposes them to a new environment. 
In this article, I'll discuss the benefits of baby swim lessons, why you should enroll your child, and how much you can expect to pay for them.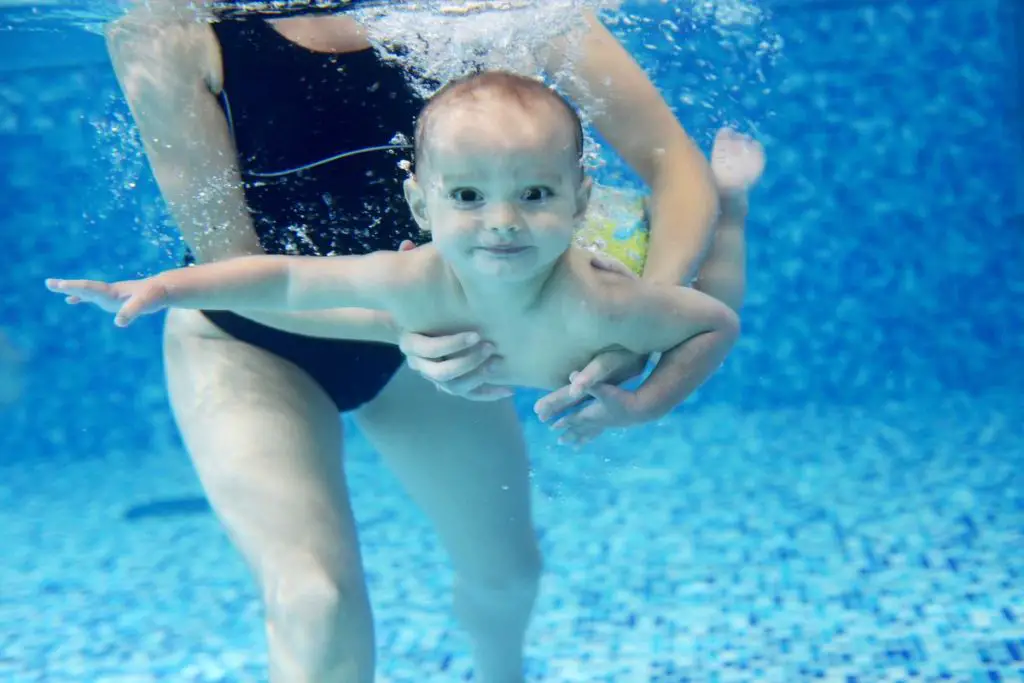 Why It's Worth Paying for Baby Swim Lessons
Baby swim lessons are not compulsory for your baby if you think it is too early for them to learn. However, studies have shown that babies who have been exposed to water and have taken swimming lessons are less likely to drown than a baby who hasn't. 
Swimming Lessons Can Be a Bonding Experience
Baby swim lessons are also a great way for a mother and her toddler to have some bonding time in a new environment. 
The American Academy of Pediatrics (AAP) supports swimming lessons for babies ages one and older. However, age is not the only determining factor when deciding whether your toddler is ready to get into the pool. 
Necessary Precautions Before Enrolling Your Baby in Swim Lessons
Not every baby responds the same to being in the water, as each baby is different in terms of where they are emotionally, physically, and developmentally. Therefore, discussing the topic of swim lessons with your pediatrician is a good idea.  
The aim of baby swim lessons is not to get a baby swimming on their own but to get the baby comfortable in the water and allow parents and their kids to have some fun together. The key is to go to an instructor who is certified in water safety, CPR, and first aid and is someone who you trust. 
Approach Swim Lessons From a Perspective of Safety
There is some debate about whether or not swimming lessons for children under 4 years are even useful for a child's development or not. However, studies have shown that a baby that has been to swimming lessons is less likely to drown than one that hasn't. 
If you plan to introduce your baby to water at a young age, then baby swim lessons are definitely worth the cost. Attempting to teach your baby to swim alone is extremely dangerous, as many things could go wrong.
How Soon Can You Teach a Baby To Swim?
The best time to start teaching a baby to swim depends on developmental factors that differ from baby to baby. It is difficult to generalize the topic and give a 'perfect' time on when to start teaching your baby to swim.
However, the AAP outlines that swim lessons as a level of protection from drowning may begin at the age of one year. It is not recommended to try and teach your baby to swim if they are under the age of one, but lessons at a young age can be a good bonding experience for the mother and the child. 
Even though there have been reports of babies swimming independently at just a few months old, it's dangerous to leave children alone in or near a pool or body of water if they are under 6 years old. 
From the age of 6, children have the ability to swim and float on their own. This ability increases if they have been taught the appropriate skills in swimming lessons. However, if a child is exposed to water and goes to swimming lessons early in life, they may swim on their own before the age of 6.
What Benefit Does a Baby Get From Swimming Lessons?
A recent study shows that babies who get swimming lessons are more comfortable in the water. This gives your child a smaller chance of drowning. They may also start swimming on their own earlier than normal children. Many babies that have regular swimming lessons from the age of 1 and can swim on their own by the age of 3. 
Swim Lessons Boost Mental and Physical Health
Swimming is a great way for both the mother and child to get some exercise in and build muscle. Swimming doesn't only benefit the baby's muscles but also strengthens their joints as well. 
Children who swim from an early age develop better physically and mentally and have higher self-esteem and improved confidence. When children are exposed to a new environment at a very young age, their curiosity and self-esteem become stronger. 
Swimming also allows toddlers to explore a whole new environment while bonding with their parents. It will also reduce their fear of water, and they will be more willing to try out new things as they grow older. 
How Much Do Baby Swim Lessons Cost?
While it's clear that swimming lessons are helpful for toddlers, they do come with a cost. Private swimming lessons cost anywhere between $30-$40 per lesson, and public group lessons are around $20-$30 per lesson. 
There are monthly subscriptions for those parents who wish to take advantage of more lessons. The monthly packages start at $100 and go up to $700 per month. The cheaper packages are for group sessions, while the higher-priced packages are for one-on-one lessons. 
One way to save some money on your child's swimming lessons is to enroll all your kids at once. If you have multiple kids, this will allow you to get a discount at most swimming schools.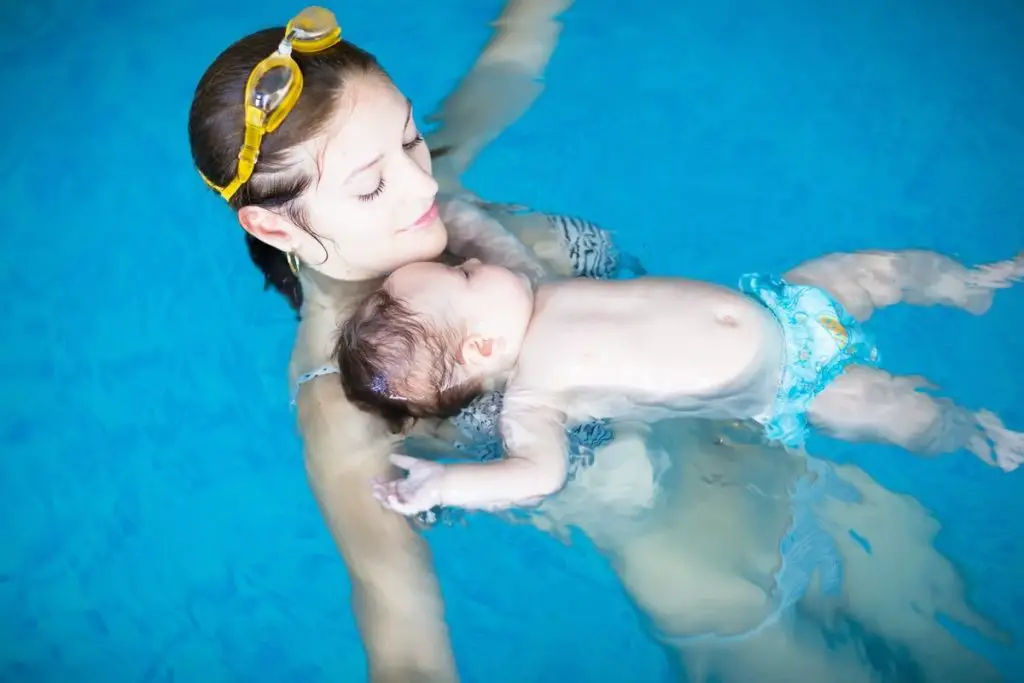 Final Thoughts 
If you decide lessons are the right choice for your child, I'd recommend you enroll them as soon as possible. Swimming is a valuable life skill, and your child will learn much faster when they are older if they were exposed to the water at a young age. 
However, always ensure that you're enrolling your child in a reputable swimming school with certified swim instructors. Monitor your child carefully and avoid pushing them too hard. The purpose of baby swim lessons is to make them comfortable in the water. 
Sources