When you entertain guests at the pool is a tested and proven method of hosting a memorable party. It allows people to "get out of their shells" and have a good time. However, you can't wing it; you need to ensure that all the essentials are in place. 
When looking to entertain guests in your pool, timing is everything, as you don't want them to get burnt out too early. Other key considerations include food, drinks, decorations, music, games, and poolside furniture.
This article will discuss some of the critical factors to consider when looking to host a fun and memorable pool party. Read on to learn more.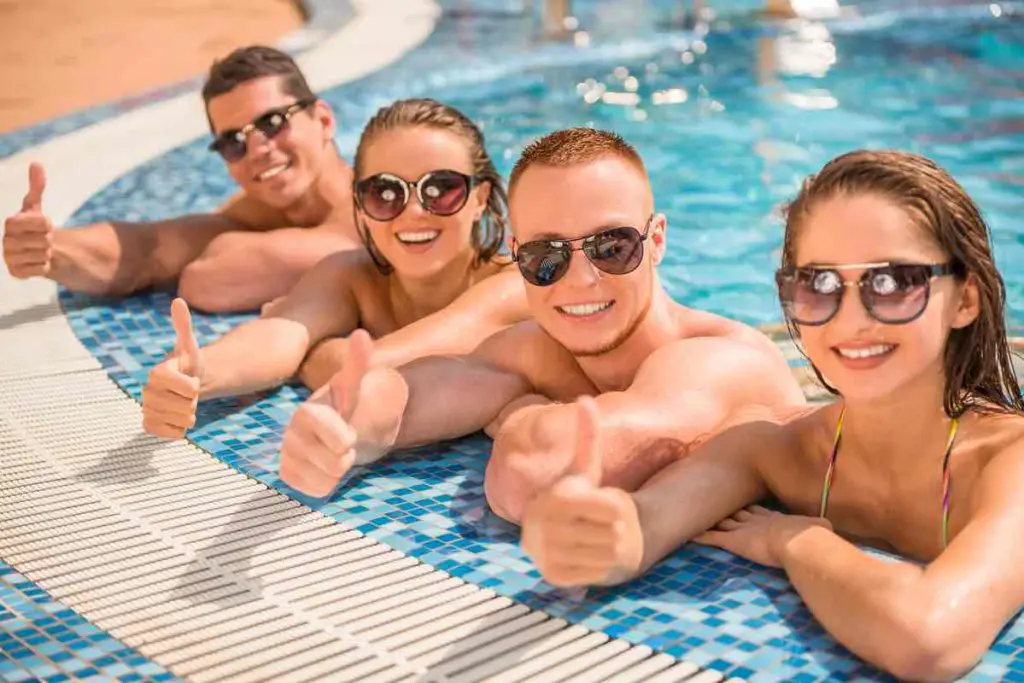 Consider Starting the Pool Party at 3 P.M.
Sure, hanging out at the pool is an excellent way to soak in that wonderful vitamin D from the sun's rays. However, there's only so much of it your guests can take in before they get bored and start looking for other ways to pass the time, which might include leaving the party/occasion early.
That is why you want to keep the time under the sun short and sweet. Starting the party at 3 P.M. means that your guests will be on a countdown to sunset, ensuring they make every second count. Moreover, the sun's rays aren't as scorching during the late afternoon/early evening, reducing the risk of sunburns.
Additionally, starting the party later means you won't have to spend too much money and energy keeping your guests well-fed and well-hydrated throughout midday.
Finally, starting the bash at 3 P.M. is ideal if you plan to extend the pool party into the night. 
Keep the Food and Drinks Simple
Most people looking to entertain their guests at the pool often worry themselves silly trying to figure out the most delectable dishes to offer their guests. Needless to say, a pool party is not a dinner party; you don't have to go over and beyond to impress your guests with your outstanding culinary skills.
The informal vibe of a pool party calls for "informal" meals and drinks, too. Therefore, instead of burdening yourself with complex recipes, simply fire up your outdoor grill and prepare hotdogs and burgers for your loved ones. Grilling poolside also allows you to participate in all the fun while still keeping your guests well-fed.
If you don't have an outdoor grill, the George Foreman Indoor/Outdoor Grill (available on Amazon.com) would make an excellent buy. It features 240 square inches (1548 sq cm) of grilling surface to allow you to prepare up to 15 burgers at a go, weighs only 20 pounds (9.07 kg) for easy transportation, and can be used both indoors and outdoors. What's more, it is incredibly budget-friendly. 
As for the drinks, consider making fruit smoothies, as these allow your guests to replenish the minerals they've lost playing around at the pool. You can also make an alcoholic fruit punch for the adults who need a little extra pep in their step.
Use Pool Floats and Inflatables for Safety and Decoration
Pool floats are a must-have for any memorable pool party. This is because they serve many purposes. For starters, inflatables come in numerous designs and colors, allowing you to use them to set a theme/ create a party mood without leaving a hole in your pocket.
Pool floats are also critical for safety. They allow people without swimming expertise to have fun inside the pool safely. To that point, you might consider hiring a lifeguard to ensure everyone's safety at the pool at all times, especially if you have an extensive guest list. Additionally, review these pool safety guidelines with your guests before starting the party.
Inflatables can also be incredibly convenient. Some feature raft designs to allow your guests to lounge on them while in the pool, while others can be used as floating bars! A must-have if you plan to entertain guests
Here is an excellent example of an inflatable, namely the Human Bobber Floating Drink Holder (available on Amazon.com). You might want to consider buying it.
Get Some Good Music Going
Music is, without a doubt, one of man's greatest inventions. Imagine how boring life would be without melody. In this case, imagine a pool party without music in the background; it would be one dull affair, which is exactly what we are trying to prevent.
Therefore, consider curating an upbeat playlist for your pool party in advance. It will allow you to set the mood and your guests to let loose and get funky. 
If you are tied for time, you can get a free trial from music streaming platforms, such as Apple Music, Deezer, Spotify, and Tidal. These apps typically have playlists for all settings, meaning you don't have to make one yourself.
Also, it's wise to use waterproof Bluetooth speakers, as you don't want to spoil your indoor speakers. I recommend checking out the Maoifaec Waterproof Bluetooth Speaker (available on Amazon.com). It offers up to 18 hours of continuous play in battery mode, and its price doesn't break the bank.
Introduce Swimming Pool Games
Nothing gets lounging people off their butts faster than a chance to beat their friends in any sort of game. Invoke that competitive spirit by introducing fun and safe swimming pool games and watch a friendly melee ensue. 
Choose a pool game that does not require much equipment or skill. A good example is swimming pool volleyball. If you don't have a net to divide the pool, consider using a ball or balloon, with the goal being to not allow the ball/balloon to touch the water.
Other excellent games include the treasure hunt, where you throw an object inside the pool for people to find, and water races to find out who's the fastest in the group. 
If you're hosting a pool party, your pool also needs to look nice. I've written an extensive guide on preparing your pool for a party. I'll give you loads of tips on servicing and cleaning the pool so it looks inviting.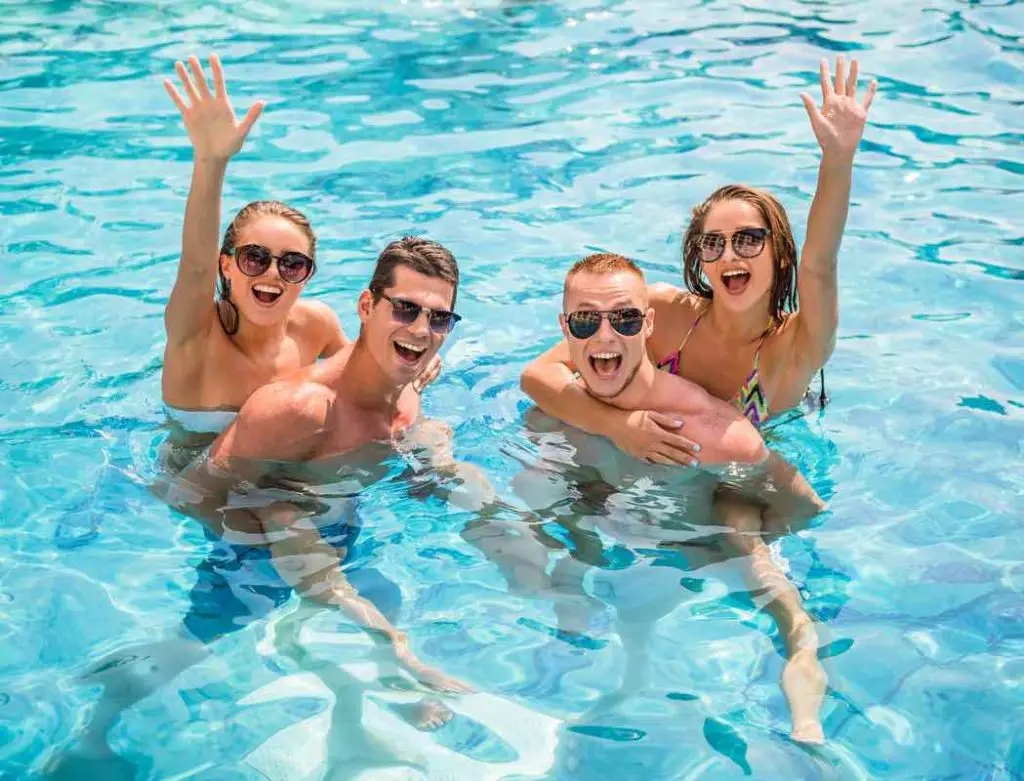 Conclusion
Entertaining guests at the pool can feel like an overwhelming endeavor at first. Yet, remember, your guests already appreciate you for inviting them over for a pool party. Therefore, relax and let the day unfold.
One thing is certain; you can't go wrong following the tips offered in this article!                                                             
Sources