Travertine paving and tiles have become popular among many homeowners because they're visually appealing, durable, and eco-friendly. Their natural beauty adds a bit of glam to your pool area so that you can entertain and relax in style. Safety is a significant concern for pool decks, so it is common to use non-slippery materials.
Travertine pool decks are not as slippery as other types of paving. However, to ensure your pool deck is even safer, there are various non-slip treatments that you can apply to this stone. 
Continue reading to find out more about the types of Travertine available and how you can treat your Travertine deck to make it less slippery.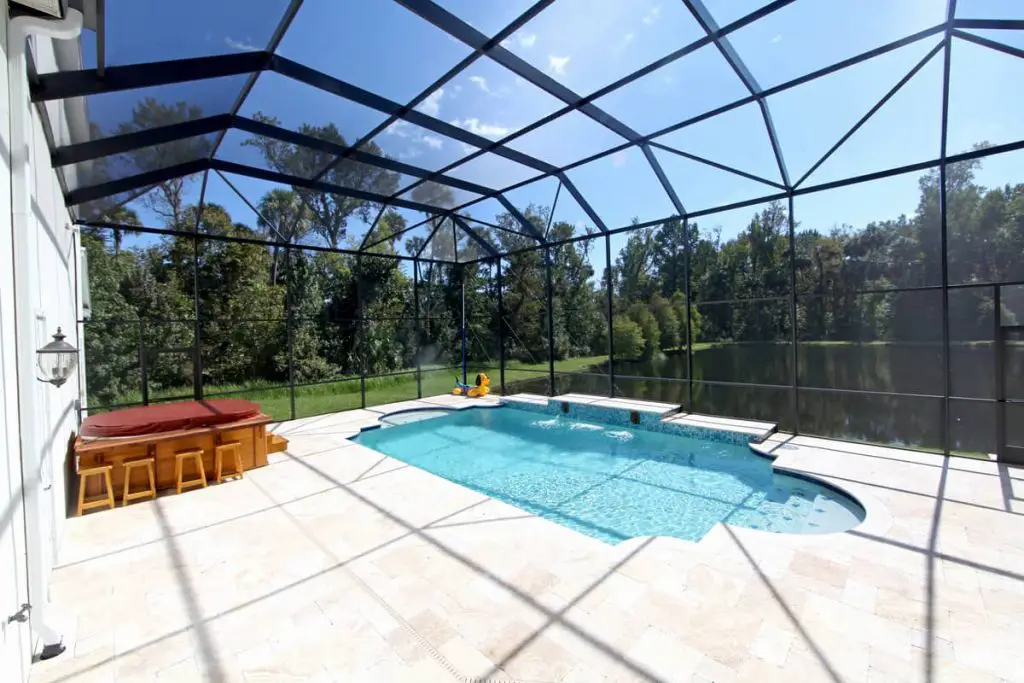 Travertine Is Not Slippery Even When Wet
Safety is a major consideration when selecting the type of paving you want for your pool deck. Since your pool deck will inevitably get wet, you need a material that will not become slippery even when it's wet. 
Travertine is a natural, porous stone that develops around mineral spring deposits. The tiny holes in the stone absorb water quickly and easily, making it an ideal paving for your pool deck. 
It comes in several finishes or textures, and each is slippery to various degrees. The main types of Travertine are:
Polished Travertine. It has a sleek, glossy finish. To achieve this look, all the holes are filled and polished. This type of Travertine looks elegant and feels smooth when you touch it, but it is the most slippery since it no longer absorbs water.
Honed Travertine. The stone is sanded or lightly polished to get the matte or sheen look of the Honed Travertine, and the holes are partially filled. This gives the Honed Travertine a smooth finish like the Polished Travertine, but it's less slippery. 
Tumbled Travertine. It is the least slippery, thanks to the many holes in the stone, making it ideal for your pool deck. This type of Travertine has a rustic, natural look. As the name implies, it is tumbled, which is a process it undergoes to give it more texture. 
Anti-Slip Treatment for Travertine Pool Decks for Added Safety
Most of the time, paving companies who install your Travertine pool deck will seal the Travertine paving to prevent it from becoming stained, dirty, or damaged, and this sealing should be replaced every 3 to 5 years. 
Regardless of the type of Travertine you choose to pave your pool deck, paving experts may suggest that you invest in a non-slip or anti-slip treatment applied to the surface for an extra layer of safety. 
You have a few non-slip or anti-slip options to consider if you want to protect your loved ones from slipping. Some of the common ways to treat your Travertine pool deck include:
Anti-slip coating. It is resilient and long-lasting. This type of coating is usually water-based or solvent-based and works well on a pool deck, offering a firm grip. 
Anti-slip sealer. It is easy to apply and offers excellent protection against slipping. It is a highly resistant material and won't deteriorate over time.
Anti-slip paint. Along with providing anti-slip properties, the anti-slip paint also allows you to change the color of your Travertine paving. Like the two options mentioned above, anti-slip paint is long-lasting.
Once your choice of treatment is in place, avoid acidic cleaners or vinegar, as anything acidic will react negatively with the stone, dulling its color and damaging the surface. Your best bet is to use a soap-free cleanser appropriate for natural stone, or you can use any mild dish soap that you have.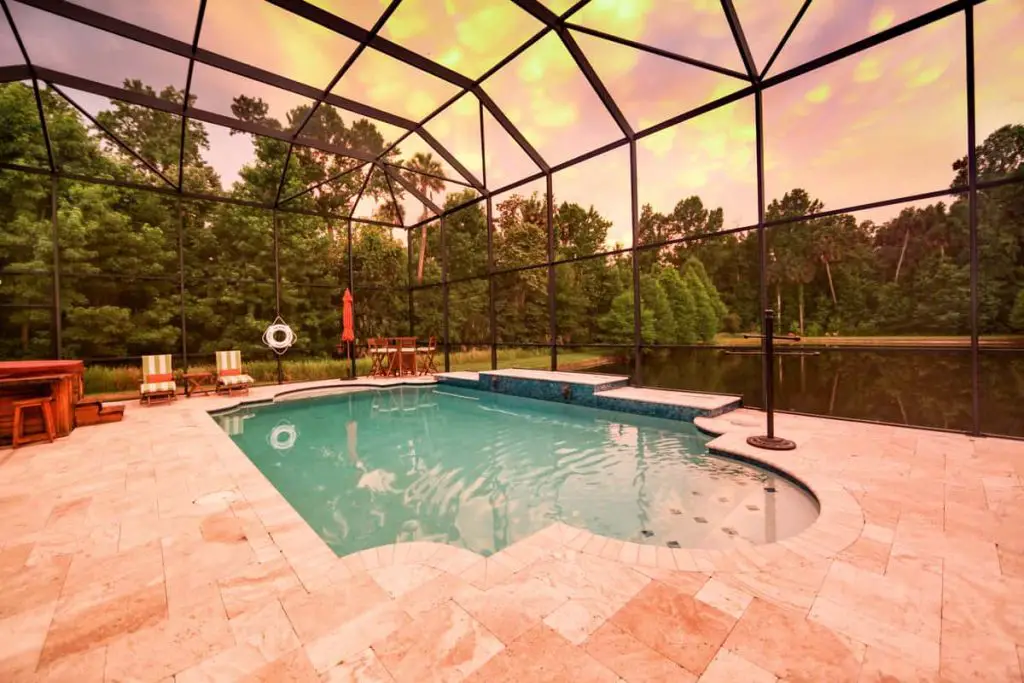 More Reasons To Invest in Travertine for Your Pool Deck
Apart from looking chic and being a safe, non-slip flooring solution, homeowners love Travertine because of the other benefits that this gorgeous limestone offers. 
Travertine is exceptionally durable, and with proper care, it can last a lifetime. It can withstand scorching and freezing temperatures without cracking, becoming worn, or damaged. It can also withstand heavy furniture and foot traffic without getting ruined. 
It does not retain heat, making it an ideal paving for areas where people are typically not wearing shoes. Travertine has the ability to reflect the sun's rays while at the same time transferring cool underground temperatures to the surface of the paving. The surface area will remain cool in the hottest climates. 
Unlike many other types of paving, Travertine is eco-friendly. It doesn't contain harmful chemicals or toxins and does not go under any further manufactured processing. The earth naturally produces Travertine.
Installation and maintenance are easy. Unlike other types of paving, it's easy to cut Travertine in any shape or size that you want. This is especially handy for decks and pool areas that have unusual layouts. Cleaning and maintaining this paving is easy, and you don't need any special cleaning materials or detergents. 
The Downside of Travertine
No paving is perfect, and while Travertine does offer a host of benefits, it also comes with a few disadvantages. 
Travertine is sensitive to acid. This is because it is a type of limestone that contains calcium carbonate. Even if your Travertine deck is sealed, any contact with acid can cause the color to change and will damage the surface so take extra care not to spill orange juice, for example, and be sure to use a mild cleaner.
While its porous nature makes it less slippery, it also attracts dirt that can get trapped in the tiny holes. This is especially the case if your paving is next to a garden and you have loose soil. After a time, the trapped dirt becomes quite unsightly and spoils the beautiful look of the paving. Luckily, sealing your Travertine pool deck solves this problem. 
Final Remarks
A Travertine pool deck gives your pool area a gorgeous aesthetic. Since it is naturally porous, it's less slippery than other paving options, but you can make it even less slippery by treating it with anti-slip sealing, anti-slip coating, or anti-slip paint. 
These treatments are long-lasting and offer excellent protection to keep your family safe around the pool. Travertine is also incredibly durable, heat resistant, and easy to install and maintain. 
Sources